Working as a carer in the UK
---
Are you looking for carer jobs in UK? Hometouch offers live in care jobs in the UK and rewarding caregiver jobs in the UK for foreigners. Contact Hometouch today for care work opportunities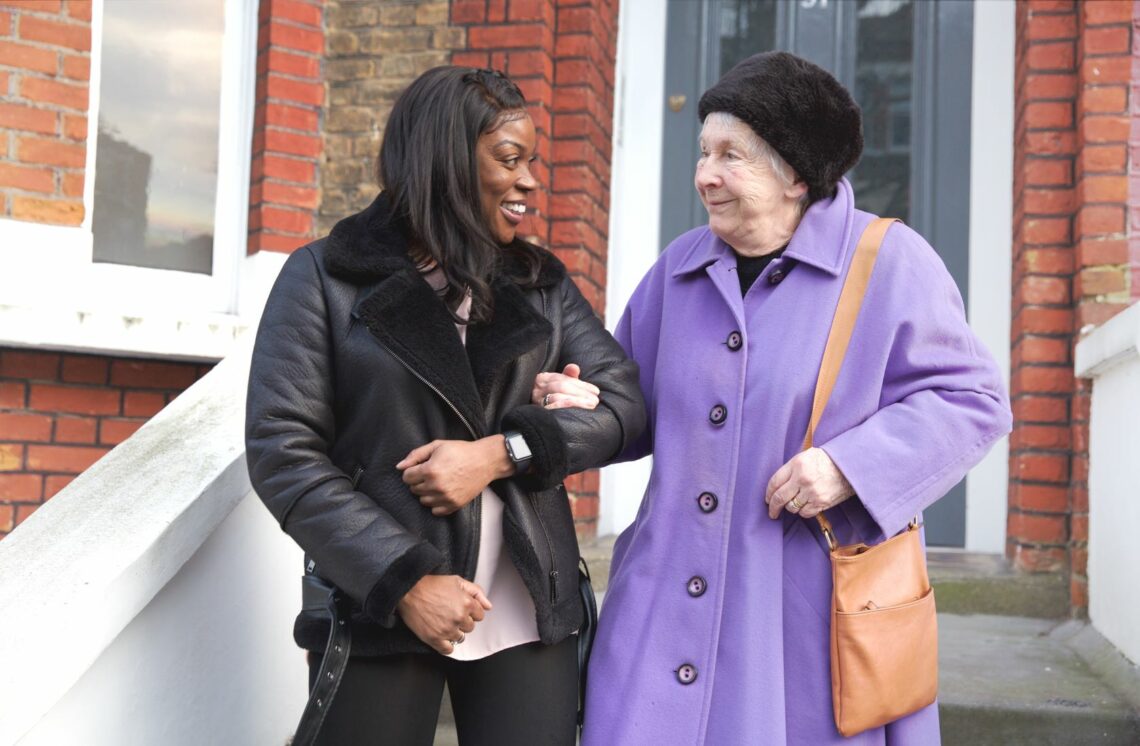 Care work opportunities in UK
Caring for someone can be personally rewarding, interesting and financially secure. Growing our carer community is important to us at Hometouch. To find out how you can get involved, go to myhometouch.com/apply
Caring for someone can be personally rewarding, interesting and financially secure. For example, 1-3% of people over 65 years old need some kind of daily assistance with things like dressing or meal preparation. Many live in carers can support them in their own home.
But it's not only the elderly who need care and support, there are also other people for whom having a live-in carer helps to manage their condition while living independently: Young adults with learning disabilities; Young children with complex health conditions or other individuals affected by conditions.
We believe that care is about more than just looking after someone or making sure they have their medication on time. Hometouch's dementia training program reveals the emotional and physical elements of caring for someone with a disability, illness or condition, in particular dementia.
You'll learn to support customers and enhance their wellbeing and give them more independence.
Help someone live their life to the full today with Hometouch. The most rewarding aspect of care work is the opportunity to make a difference in someone's life. Whether you're working with children/young adults with learning disabilities, helping people manage their condition or providing personal care.
Hometouch specialises in live-in care. We do not offer live out care at this time.
---
How to become a Carer in the UK
What values and attributes do Hometouch look for in their live in carers?
---
We look for kindness, being conscientious, being accountable, respectful to others, committed to learning and focused on delivering the best care.
How much do live-in carers get paid per day?
---
Depending on the situation and the carer's experience, Hometouch carers receive on average between £100 and £120 a day.
How long does an application take?
---
The initial application only takes around 10 minutes – you'll need your personal details and CV and you should hear back from us within a few days. While we try our best to reply to every application, this isn't always possible due to the high volume we receive.
How soon can I get work?
---
As soon as your profile is up and running on our site and you've completed your reference checks, training and DBS, you can respond to job enquiries and express interest in roles.
What if I've got a specialism?
---
Great! We're on the lookout for highly skilled live in carers. Let us know about your specialisms and experience in your application. We'll do our best to match you with a client who needs your skills.
What documents will I need to apply?
---
You'll need your CV, a form of ID and evidence of any qualifications you have. We'll also ask you to provide references, which we'll follow up with. It is also our current policy for every carer to be on the DBS update service.
Why care with Hometouch?
At Hometouch, we pride ourselves on how we treat our carers. We offer better pay than agencies, let you to choose when and where you work – and even offer opportunities to develop your skills. We're on a mission to offer exceptional care across the country. If you think you'd be a good fit for us, apply online now.
How does the Hometouch application process work?
1. Apply below and provide us with information about your experience
2. We'll email you to schedule a phone interview
3. Submit some documents online
4. Meet us for a face to face interview
I think Hometouch is the best care company I have ever worked for. Its a great team of care professionals focused on delivering the best care to clients. I feel supported, well paid and have the tools to learn and provide the best care.
Expat Live in care Professionals are reading