Visiting care in your own home
---
Visiting care services can support anyone who is lonely or struggling to manage at home. Hometouch visiting home care can provide a helping hand, a friendly face and specialist support to help them live a full, satisfying and independent life.
What is visiting care?
Visiting care is hourly or drop-in care provided in the home. A professional carer can visit your loved one's home at specific times to provide practical, emotional and personal care support.
Home care can involve anything from support with chores to supervision of medication and help with feeding. As a result, visiting care can support independent living and make an enormous difference to quality of life.
Visiting home care can be a great choice if a live-in carer is not yet needed. If you think your loved one might need care support, please get in touch with a Care Advisor – they'll be happy to help you find the right care for their needs.
Speak to one of our knowledgeable care advisers about Hometouch's high quality live-in care service
Who is visiting care suitable for?
Visiting care can support anyone who wants to continue living in their own home but is struggling to manage independently. In addition, visiting care can offer companionship and a helping hand for people who are isolated, lonely or infirm.
Disability, age-related frailty, dementia and illness can make it challenging to cope with the normal activities of daily living. For instance, washing, cooking, using the toilet and remembering tablets can all be tricky. But carers can offer a helping hand and a gentle reminder. Above all, visiting care can support your loved one to live a comfortable and fulfilling life in their own home.
What are the benefits of visiting care?
Visiting home care can provide the support your loved one needs to live safely and independently at home. Age, illness and injuries can make it difficult to care for themselves, manage the house and get out and about. However, a care home is not the only option. Private visiting home care can provide help with chores and support to continue living in the home that they love.
Flexible care:
Hometouch offers a bespoke care service. This means that Hometouch tailor the care to your loved one's needs. Visiting care is flexible, ranging from a few hours of personal assistance a week to multiple daily visits. Carers can oversee medication, help with getting in and out of bed and prepare meals. Many people with dementia or other progressive conditions may need extra help over time. Because of this, Hometouch visiting care is totally adaptable and able to evolve to meet developing needs.
Home comforts and routines:
Home care can prevent or delay the need to move to a care home for a number of reasons. Firstly, a familiar environment and consistent daily routines are comforting and reassuring. Secondly, living at home can help people sleep better and finally there's evidence that staying at home can help the elderly function more effectively, especially if they are affected by dementia. This means that care support to live safely at home can help maintain health, wellbeing and independence.
A friendly face:
The elderly are at risk of loneliness and social isolation. That can be a result of poor mobility, illness and the loss of a partner. One million elderly people say they feel lonely, which can have an enormous effect on health and wellbeing. Hometouch provides visiting carers that offer more than practical support, they can also provide a familiar, friendly face and a chat over tea and cake.
Respite care:
Visiting care can support overworked family carers. When you're caring for a loved one, the demands of caring can make it difficult to socialise, relax or work. However, caregivers can provide support, reassurance and a helping hand, so that you can get the rest and respite you need.
Temporary home or nursing care:
Visiting home care can be provided temporarily. This makes it a great option if your loved one is recovering from an operation, accident or illness. Qualified nurses and specialist carers can support people with complex health needs including incontinence, stomas, catheters and tube feeding.
Who provides visiting care?
Visiting care can be accessed in many ways. These include the local authority, private independent carers and care agencies. Hometouch offers two models of visiting care to meet your individual needs and budget. Both care packages have the same rigorous standards of carer selection, so that you can relax, knowing your loved one is in safe hands.
Hometouch Regulated Care is inspected and regulated by the CQC. It provides a fully-managed, visiting care service with high-quality customised care and the option of specialist in-house nursing and dementia care.
Hometouch Introductory Care is Hometouch's award-winning model of care. It offers full control and choice over care, at an affordable price. You can choose self-employed visiting carers that have had thorough police, qualification and reference checks. This model of care means that the costs are lower.
Speak to one of our knowledgeable care advisers about Hometouch's high quality live-in care service
What makes our Carers special?
Hometouch visiting carers are special, in fact we believe they are modern day heroes. They are compassionate and caring and individually chosen because of their experience, skills and ability to make a real difference.
Communication is a fundamental part of care, which is why our live in carers are fluent in English, have a warm, friendly personalities and are selected to suit your loved one's personality and needs. Sometimes just a sweet cup of tea and a good chat can make all the difference.
At Hometouch, all our carers need to pass the most important test: Would we want them to care for our own family?
Apply for live-in care jobs
---
Hometouch has been one of the best companies I have worked for in the care sector! I have always been told I'm appreciated and been made to feel like it too. I'm so happy to be a part of the Hometouch team
Shaheen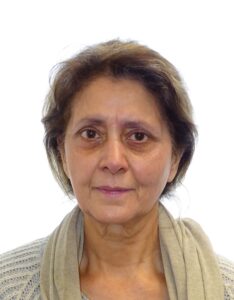 ---
£750 - £900 per week. Double bank holiday pay
---
You choose your own clients
---
Free training, webinars and supervision
Apply now