Tailored Live-in Care Somerset
At Hometouch, we offer an unparalleled level of care nationwide. Are you looking for a carer in Somerset? We can match your loved one with the perfect care professional. So whether you're in Bath or Bridgwater, find out how Hometouch can transform your loved one's life. Speak to a Hometouch Care Advisor today.

We'll ask you about your loved one's choices and care needs and then recommend a curated list of live-in carers we think will be a good fit for your situation. You can customise your care plan to ensure that your loved one receives the appropriate level of care, ranging from companionship to clinically complex assistance.
We can help with dementia, neurological problems, spinal injuries, and acquired brain injuries, among other things. Learn more about the different types of care we provide.
Exceptional Live-in Care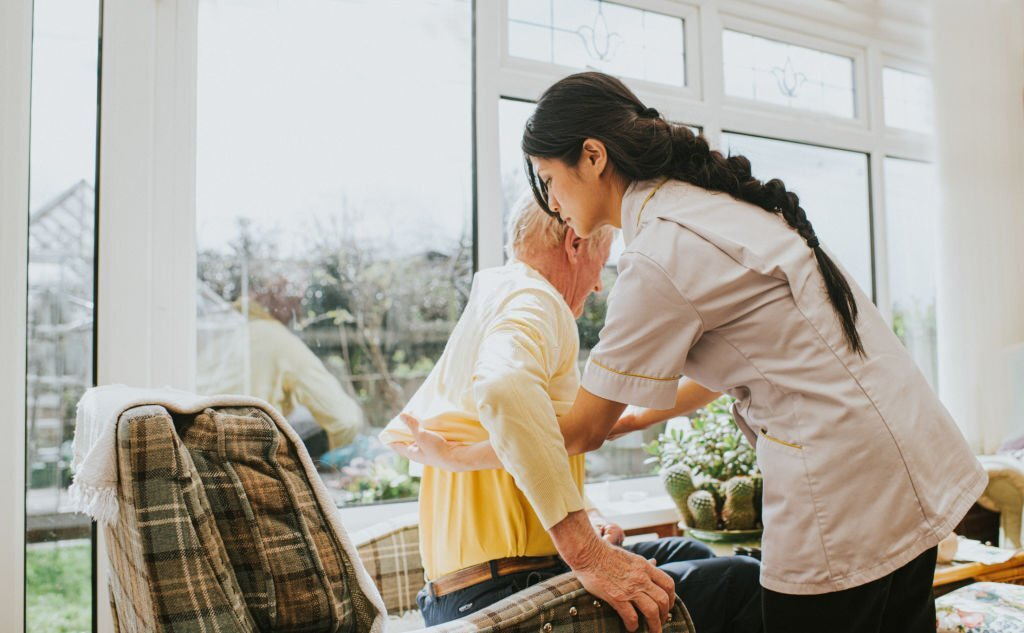 Dr Jamie Wilson, a former NHS dementia specialist, founded Hometouch to help individuals live joyfully, safely, and with dignity in their own homes.
Whether it's expert dementia care, post-operative care, palliative and end-of-life care, respite care, or just companionship, we believe in offering the most outstanding care. We're proud of the live-in care services we provide, but don't take our word for it: we have a five-star rating on Trustpilot and nine out of ten Hometouch customers would refer us. 
Thousands of families trust us across the UK, so why not join them? To learn more about how we can assist your loved one, contact a Hometouch Care Advisor.
24-hour Care at Home Somerset: What Other Types of Home Care are Available?
Live-in care isn't the only type of home care accessible. Dementia care is becoming more widespread in Somerset as the number of persons over 65 increases.
Because of the unique effects of this condition, such as wandering, agitation, and confusion, dementia care necessitates specialised skills and training. Our live-in carers provide care in the comfort of your own home as an alternative to dementia care homes in Somerset.
What Sets Domiciliary Care Apart From Other Types of Care in Somerset?
Hourly or drop-in home care in Somerset is a less intense option that provides short visits to cover basic requirements like washing and dressing, food preparation, and personal care.
Our private live-in carers are primarily self-employed and operate independently or through an agency. Nighttime care, respite care, Parkinson's care, and companionship care are just some of the options offered.
What is Somerset Respite Care, and How Does it Work?
Choosing respite care for the elderly or respite care for elderly patients can provide carers and people they care for with a much-needed break, allowing them to relax and enjoy a vacation or some alone time. 
Hometouch offers respite care for family caregivers, providing a much-needed break or an alternative to short-term residential care.
Elderly Care Somerset
Are you looking for a less expensive option to a Somerset residential care home? Then our Somerset live-in care services for private live-in care may be the best option for you. All of our live-in carers have extensive expertise and have been thoroughly vetted. They operate professionally while providing appropriate care and attention.
Our commitment to home care means that each customer is treated as an individual, with personal choices and independence taken into account at all times. Our live-in carers are suitably trained in elderly care and provide an alternative to Somerset's nursing facilities. Frailty, mobility limitations, loneliness, and various medical issues are all common characteristics of elderly adults who require special needs.
Hometouch's elderly Care in Somerset includes medication administration, companionship, and taking clients to appointments.
How Do Care Homes in Somerset Differ From Live-in Care?
Residential and live-in care are the two types of care available in Somerset. In the end, deciding between a live-in carer at home versus care in a facility boils down to balancing one's own personal practical circumstances and feelings. 
Choosing between live-in care and a care facility is a personal decision that must be made based on what is most important to you and your family. If your loved one has trouble settling into a care facility, home care may be the best alternative.
Please see our in-depth article for additional information on Somerset care homes and live-in care as an option.
Are You looking for a Live-in Care Job in Somerset?
If you are looking for live in care jobs in Somerset, please review our dedicated page to help you with your application.
"Through Hometouch, we found an excellent carer for our 91-year old father. From the first day he came, it all worked perfectly, doing just as we'd hoped and more."
Our Expertly Trained Care Teams in Somerset
Our professional carers complete an industry-leading training program that goes far beyond industry requirements and is developed in collaboration with renowned charities and experts. This enables our expert caregivers to assist older adults with various diseases, including complex conditions that necessitate extra monitoring, care, and help. 
Our carers never stop learning new skills to ensure they can deliver the high-quality care our clients need, from training through probation to placement and beyond. They also look for new methods to improve the level of care they provide.
What is live-in care?
Live-in care is when a carer lives with the person receiving care in their home. From companionship care all the way to round-the-clock complex care, a live-in carer can provide one-to-one support in your loved one's own home. This is especially important for people living with dementia, who may become increasingly confused or distressed in unfamiliar surroundings.
A dedicated live-in carer can provide your loved one with more individual care than they'd receive at a residential home. So whether it's a day out on weekends, or fish and chips in front of the TV on a Friday evening, your loved one can carry on doing the things they enjoy. And because the carer is staying on-site, it's often cheaper than a care home too. To find out more about the cost of care where you live, take a look at our page on understanding the cost of care.
At hometouch, we help people live happily, safely and with dignity in their own homes. If you think live-in care could be right for your loved one, contact a hometouch Care Advisor today.
Find out more about live-in care
What are the Benefits of Live-in Care?
Many clients hire a live-in carer or support worker for various reasons. There are numerous compelling reasons to receive live-in care at home rather than going through the stress, upheaval, and uncertainty of transferring into a care facility:
Avoiding change – with that extra help, daily life can stay pretty much the same.
Flexible care tailored to your needs – your private caregiver can assist you as much or as little as you want.
Maintaining the same habits, pastimes, and interests
Companionship is essential, whether it's eating meals, watching TV, or going on outings.
Family and friends can still visit as usual.
Emotional assistance — many of our live-in carers have become friends with our clients.
Why Choose Hometouch?
We have provided high-quality, live-in care to families in England for many years. Our award-winning live-in care services focus on empowering people to live independently in their own homes while also improving their quality of life. Our approach to live-in care allows our clients to improve their health and well-being. Families gain peace of mind and comfort that their loved ones receive the most excellent care and support possible.
Some of our top live-in care spots in Somerset
Live-in care available across Somerset
People in Somerset are reading