Looking for Live In Care?
---
Hometouch provides high-quality, professional live in care across the UK. Our nationwide live-in care service is rated excellent with 5 stars by Trustpilot and rated as Good by the CQC. If you are arranging live-in care, please get in touch for a consultation.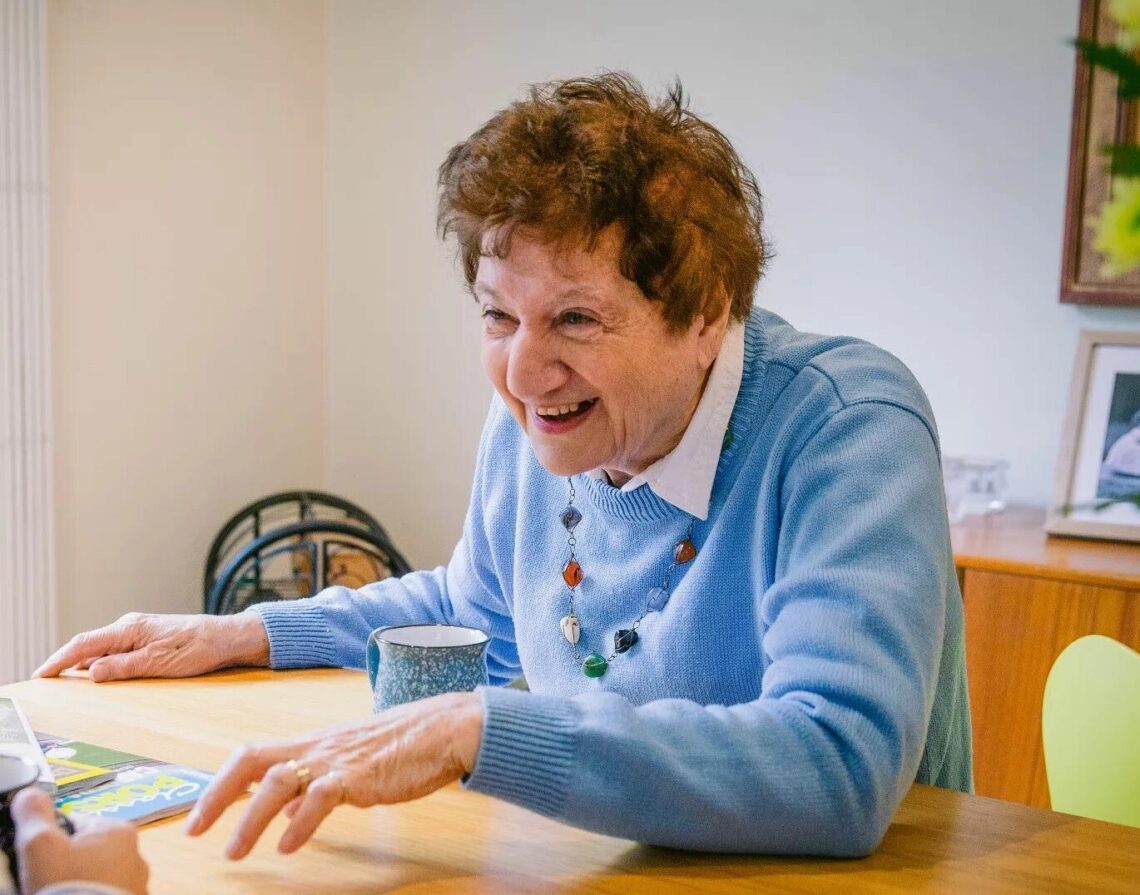 Live in care: What does it involve?
Live in care is practical, emotional, and personal care provided around-the-clock in the individual's own home. Expert carers live in the house, providing support, a helping hand, and sometimes nursing care 24 hours a day. The carer assists with chores, supports personal care like bathing, dressing, and toileting, prepares food, and keeps them safe. They also offer a friendly face, a chat, and a little company. Depending on needs, live-in carers can also manage more complex tasks. They can manage incontinence, administer medication, and sensitively supervise your loved one to ensure safety day and night.
What do live in home carers do?
Live in home carers reside in your home on a semi-permanent basis and assist with all the daily duties of caring for someone with an illness, physical frailty or cognitive impairment.
Live in assistance: who is it for?
Many people need live-in care as they grow older. Dementia, diseases, and disabilities can make it a struggle to live safely without support. However, for people who can't manage alone, a care home is not the only option.
Live-in carers can provide practical, emotional, and nursing support, day and night. Hometouch live in carers provide live in home help for people with dementia, advanced conditions such as Parkinson's and Stoke, and mobility problems. We also provide temporary live-in care and support for those who are recovering from operations, illnesses, or accidents. Our Live in home care service allows your loved one to stay safe, healthy, and independent in their home. Hometouch provides:
What are the signs that live-in care is needed?
Live-in care may be necessary when someone is unable to manage the normal activities of daily living safely. Confusion, reduced mobility, and restless nights can increase the risk of falls and household accidents. Many people are too proud or ashamed to admit they're having problems. However, there are clues that they may not be coping.
If a loved one is looking dirty, unkempt, or inappropriately dressed. If they're not eating, or they're confused about medication, they may need help at home. Vital signs that around-the-clock care support is necessary include:
Near misses: Burned pans, hobs left on, doors left open, or baths overflowing could suggest that someone is suffering confusion and memory loss that could put them in danger.
Falls: Arthritis, impaired mobility, and failing vision can make people unsteady and prone to fall. Falls can lead to broken bones or head injuries. Someone unable to get up or call for help will suffer pain and discomfort and is at risk of further problems.
Restless nights: Dementia can upset the body's natural cycle of waking and sleeping. Sleep disturbance can also develop due to heart, lung disease, or urinary problems. Accidents are more likely when it's dark, so live-in care helps maintain safety.
Wandering: In the later stages of dementia, people can be agitated and confused and may wander to seek familiar people and places. Supervision is stressful and exhausting for family carers. Live-in care can provide a reassuring, watchful eye, 24 hours a day.
Rest and respite: Caring is stressful and demanding. Live-in care provides essential respite for family carers so that you can enjoy your time together.
What do live-in carers do?
Live-in carers support families and help individuals manage chores and the daily challenges of life. Carers offer a helping hand with:
Personal care: Live in carers assist with dressing, washing, and toileting, ensuring your loved one stays clean, comfortable, and well-presented.
Household chores: Live-in home carers help the home run smoothly. They will lend a hand with cleaning, laundry, preparing meals, and running errands.
Mobility: Arthritis, stroke, or degenerative conditions can affect movement to increase the risk of falls. A carer can help your loved one get up in the morning, support safe movement around the home, and prevent trips and falls.
Medication: Taking the right tablet at the right time is confusing, especially if your memory is impaired. A carer can provide a gentle reminder or oversee medication to prevent omissions and overdoses.
Companionship and care: A live in companionship carer is a source of support and friendship, enhancing the quality of life as well as supporting safe living.
How does live-in care helps maintain routine?
Keeping to the usual structure of the day can improve the function of people with dementia. Familiar places and patterns are reassuring and there's evidence that they can help maintain cognitive abilities and increase wellbeing. Your loved one can keep their own routine, rather than adapting to a care home schedule – which means they can enjoy their favourite TV programme, or eat at their usual time.
Relearning skills
Just because someone with dementia has forgotten how to brush their teeth or carry out simple tasks, it doesn't mean there's no way back. By building on a person's abilities and strengths, Hometouch carers can help those with dementia maintain and relearn skills.
Eating well
There's evidence to suggest that switching to a Mediterranean diet may reduce the risk of memory loss. It's a diet with lots of fresh produce, fruit and veg, fish, pulses, nuts, seeds and healthy fats. Antioxidants can protect the brain from damage, they can be found in green leafy vegetables, tomatoes, citrus fruits and berries. Our live-in home carers can help your loved one with their nutrition to keep them happy and healthy.
Keeping fit
Exercise may help prevent dementia and slow the progress of the condition. Research suggests, living an active life, exercising regularly and building leg muscle strength were all linked to better mental function with increasing age. Whether it's some gentle stretches or a stroll around the park, our live-in carers can ensure your loved one is getting the exercise they need.
---
I found the process of finding, selecting and contacting the carers very easy and reliable. The carers were very well qualified and diligent in the help and assistance they provided. Their help was warm and comforting in a difficult time of transition. Customer review, live in care client
---
What are the advantages of live-in care?
Live-in care can offer many advantages over a residential facility. Many people prefer to spend their later years living in their own homes. The familiar environment, proximity to family and friends, and sense of independence can help maintain function and improve quality of life. The advantages of live-in care include:
Familiar environment: Staying somewhere that is well known to the individual can help maintain independence and improve function, especially in people affected by dementia.
Living with a partner: Live-in care can help a couple spend the rest of their lives together.
Maintaining routines: After a lifetime of following a routine, it can be distressing and confusing to change. Living at home allows your loved one to live their life to their rhythm, not follow a schedule imposed by a care home. This is particularly important for people with dementia, where keeping to a routine helps people live independently for longer.
Staying social: People with an active social life tend to be less depressed and more mentally alert. At home, your loved one can remain in the heart of their community with friends, family, and neighbours close at hand. A Hometouch live-in carer can help them go to clubs, to the bingo hall, bridge, out for lunch with friends. Hometouch carers can help maintain your loved one's social life and may even broaden their horizons.
Peace and privacy: At home, even with a live-in carer, there is always somewhere to get away and have peace and quiet. Care homes can be hectic, bustling places, which can be challenging, especially for introverts.
Relearning skills: Specialist support can help people with dementia relearn skills like brushing their teeth. Hometouch carers can support relearning by building on an individual's abilities and strengths.
Pet-friendly: Pet can provide love, companionship, and a reason to get up and out in the morning. Research shows that pets can improve health in the elderly. Live-in care can ensure your loved one stays with their four-legged friend.
What does a live-in carer need?
The house will be the professional carer's residence as well as their workplace. So there are some practical details to consider to enable them to work efficiently and live in comfort. They'll need a private room to rest and sleep and somewhere to wash. Some modifications to the home may be necessary. Things to consider include:
Private space: A live-in carer will need a private room in which to sleep, relax, and have time away from the person they care for. It could be an existing bedroom, or an adapted study or dining room. It's important to ensure it has a bed, storage, and other essentials.
Bathroom facilities: A personal en-suite isn't essential. However, they will need easy access to clean, functional facilities for washing, showering, and going to the loo in privacy.
Home comforts: A carer will work better if they can live and rest comfortably. Their room should be warm, well-lit, and clean.
How many hours do live-in carers work?
Live-in carers work throughout the day and may also do occasional night calls. A carer needs adequate time to rest. Legally and practically, they will need breaks to recharge their batteries. They should have a total of 2 hours off during the course of the day, and 8 hours of sleep at night.
If your loved one has restless nights and needs help more than one or two times a night, Hometouch can arrange extra cover. Using two carers to share the demands, or providing waking care services at night will ensure the carer is rested and able to meet all of your loved one's needs. This can also be combined with live in care services where needs are particularly challenging.
What rota pattern do live-in carers work?
Hometouch prioritises consistency of care so that you can build a relationship with your caregiver. The rota will depend on your loved one's care needs, day and night. For someone needing companionship, home help, and light support, a primary live-in carer will typically be with you for 4 to 6 weeks. This is followed by 1-week, during which your care needs are covered by another skilled professional. If an individual needs complex, around-the-clock care, then a more regular pattern of changeover will be scheduled to ensure consistent, high-quality care.
Do live-in carers need breaks?
Regular breaks are essential for carers, both practically and legally. Time away from caring duties allows them to eat, catch up with messages, and rest. They need to have a total of 2 hours off. The time should be spread out over the day. A carer should also have 8 hours of sleep at night. They will return to caring duties refreshed, recharged, and ready for the challenges and rewards of the day. For more guidance on what live in carers need, you can read our dedicated guide.
What qualities does a live-in carer need?
When your loved one needs around-the-clock, finding the right individual is vital. The carers should have the experience, expertise, temperament, and personality for their needs.
There are several things to consider. Practical skills, training, and qualifications are important. But you should listen to your heart as well as your head so that you can find the person who will gel with your loved one and fit in with the family.
Personal attributes: A carer should be patient, respectful, empathetic, and reliable. A sunny, cheerful disposition can also help boost the mood of everyone in the house.
Respectful and sensitive: After a lifetime of independence, it can be difficult to receive care. A carer should be a sensitive, discreet presence. They will offer support without being intrusive or patronising.
Practical and observant: A carer should be able to assist with chores, deal with personal care, and help around the house.
Training and qualifications: Certificates aren't always essential, but care qualifications show basic knowledge, understanding, and training. A nursing qualification is important for people with complex care needs.
Experience and skills: Look for someone who has previously cared for people with similar needs.
When it comes to caring, the most critical things to consider are chemistry and connection. You should always run a trial session, in your presence, so that you can observe their interaction. Think about how the carer responds to your loved one, and how comfortable and relaxed your loved one appears in their company.
Can live-in care be provided to couples?
For couples, live-in care can be an excellent, cost-effective alternative to a residential facility. Home care allows partners to spend their later years together in the home they love.
What if one partner in a couple needs care?
If one partner has significant care needs, the burden of caring for their loved one can affect the physical, mental, and emotional health of their partner. Caring can be exhausting, even for a fit and healthy individual. For someone elderly or infirm, the demands of around-the-clock care can be unmanageable.
In this situation, moving the partner into a care home is not the only option. Live-in carers can be hired to stay in the house and provide twenty-four-hour support, which can provide respite and relief for family carers.
Without stresses and strain of care, the couple will be able to enjoy their time together. Days can be spent doing things they love, instead of juggling household chores and struggling to support the normal activities of daily living.
What if both partners need live in care?
When both partners in a couple need full time care and support, it can be impossible for friends and family to cope with their needs. Care is needed night and day, but for many couples, the possibility of separation for residential care can cause anxiety and anguish.
Live-in care for a couple ensures they can continue to live together in the family home; In-home care can prove to be an economical option. When two people need to move into residential care, they pay for the fee for two individuals. A live-in carer can support both, depending on complexity. This typically attracts a 10-15% premium over the rate for one person.
Your home and funding care
Currently, government rules say that choosing live-in care may help a couple hold on to their family home. People with cash or home equity of more than £23,250 are responsible for paying care home fees. When capital is depleted, they may need to sell their homes to fund ongoing costs. There are different rules for people receiving home care. Age UK summarises the situation:
---
Your ability to pay for care will be worked out through a means test. Your home will not be included if you're arranging care and support at home and may not be included if you live with a partner, child, or a relative who is disabled or over the age of 60.
---
What is the cost of live-in care?
Many people are worried about the price of live-in care; however, live-in care can be an affordable alternative to residential care. The cost of live-in care is dependent on where in the country you are, the demands of the role, the qualifications of the carer, and whether there are any complex care needs. 24 hour carers that live in the home charge a daily rate rather than an hourly fee, with rates starting from between £120 and £150 per day.
Will the council fund care?
Live-in home care is either paid for privately or with support from the council. The majority of people have to pay towards their care. However, some local authority funding may be available. When assessing an individual's eligibility, their care needs, health, and financial status are all carefully considered.
---
Top questions about live in care
How does live in care work?
---
Live-in care usually includes services such as personal care, companionship, assistance with mobility, supervision of medication, helping with odd jobs around the house, cleaning, and cooking.
How many hours do live in carers work?
---
Live in carers normally work throughout the day and may do occasional night calls. Legally they are required to have eight hours sleep and 2 hours break per day.
What does a live in carer need?
---
In simple terms, a live in carer needs a spare room with a bed and private place to wash.
What rota pattern do live in carers work?
---
This depends on the complexity and needs of the client. For someone with lighter companionship needs, a primary carer for several weeks with the occasional carer may be appropriate. For more complex live in care, a more regular pattern of changeover may be required.
Can live in care be provided to couples?
---
Yes, and this can be work out much more affordable than both individuals going to a care home. A live in carer can care for both individuals depending on complexity. This typically attracts a 10-15% premium to the rate for one person.
Do live in carers need breaks?
---
Yes, the legal requirement is for 2 hours per day, or 14 hours over a 7 day period.
What qualities does a live in carer need?
---
A good live in carer needs to be patient, respectful of the client's home, able to work independently and may be comfortable with their own company.
How do you choose a live in carer?
---
Choosing a live in carer requires due diligence of compliance history including DBS and reference, mandatory training, suitable personality and a good match of interests with the care recipient.
Is live in care right for my family?
---
This obviously depends on the priorities and needs of the care recipient and family members. Live in care can enable dignity and privacy in the family home and ensure that one dedicated carer or team is accountable to the whole family. This enables continuity of care and better cohesion with the family.
---
We are here to help you every step of the way, from deciding on the type of care, to choosing a carer, to reviewing your care plan on a regular basis.
What is a typical live in care schedule?
---
We provide bespoke live-in care. Each individual's needs and routines are unique. They offer help sensitively, assisting your loved one to do as much as possible themselves, to maintain independence and dignity. This is an example of 24-hour live in care:
Wake & personal care
---
Support with waking, washing, dressing and or toileting – always with consideration and respect
Breakfast
---
Make breakfast, reminders to take medication, drink water and other prompts to help maintain daily wellbeing
Activities
---
Assistance with keeping the body moving and getting fresh air, from a simple stroll down the road to prescribed activities
Lunch
---
Make lunch together (if possible) allowing for participation, inclusion, bonding and mental stimulation
Downtime
---
Some gentle muscle strengthening, a cup of tea and a light afternoon nap. If appropriate, the carer may take a short break
Light house work
---
Prepare for dinner, meal planning, grocery shopping Help with chores such as ironing and laundry
Bed time routine
---
Personal care before bed, a hot cocoa, reading or listening to the radio. Lighting adjusted to assist circadian rhythm
Night care starts
---
Assistance with getting into bed and toileting. Help with night time WC visits if needed
---
* Everyone's needs and routines are different, and unique, this is a basic illustration of what our carers can help you and your loved one with in a 24 hour care period
Speak to one of our knowledgeable care advisers about Hometouch's high quality live-in care service
What makes our carers special?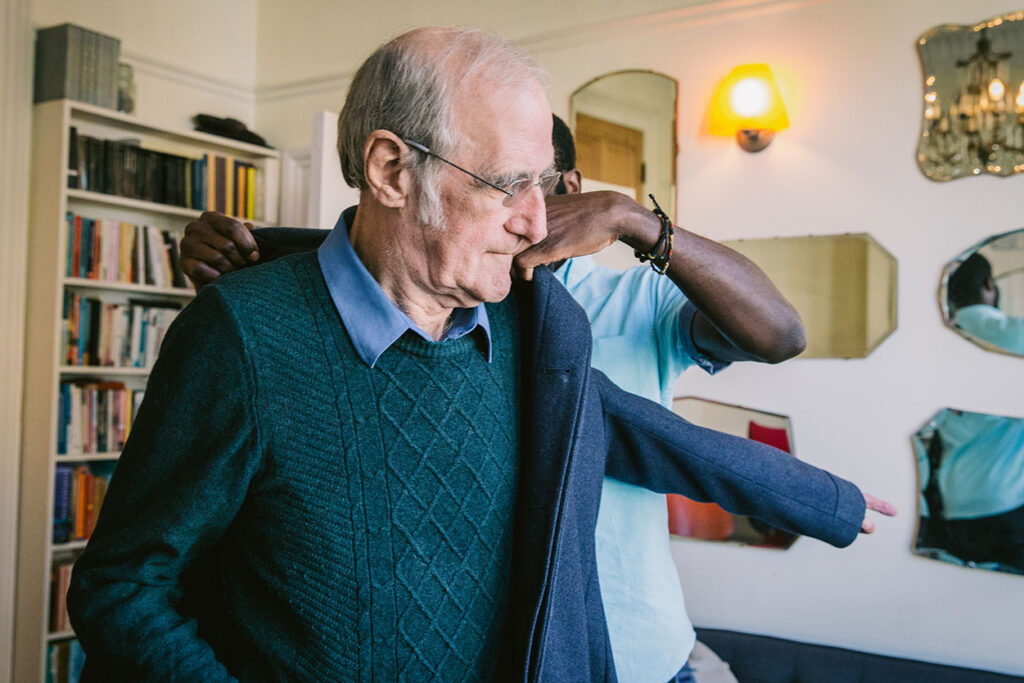 What makes our carers special?
We believe our carers are modern day heroes. They are compassionate, dedicated and giving, chosen for their abilities to make a real difference in the world. Ultimately, at Hometouch our carers need to pass the most important test of all- would we wish for them to care for our own family? Only if the answer is yes will they become a Hometouch carer.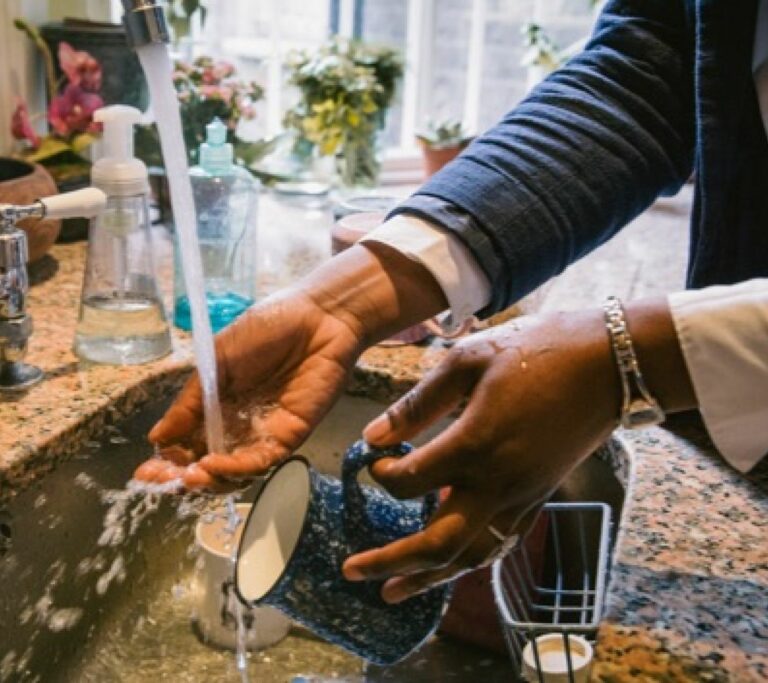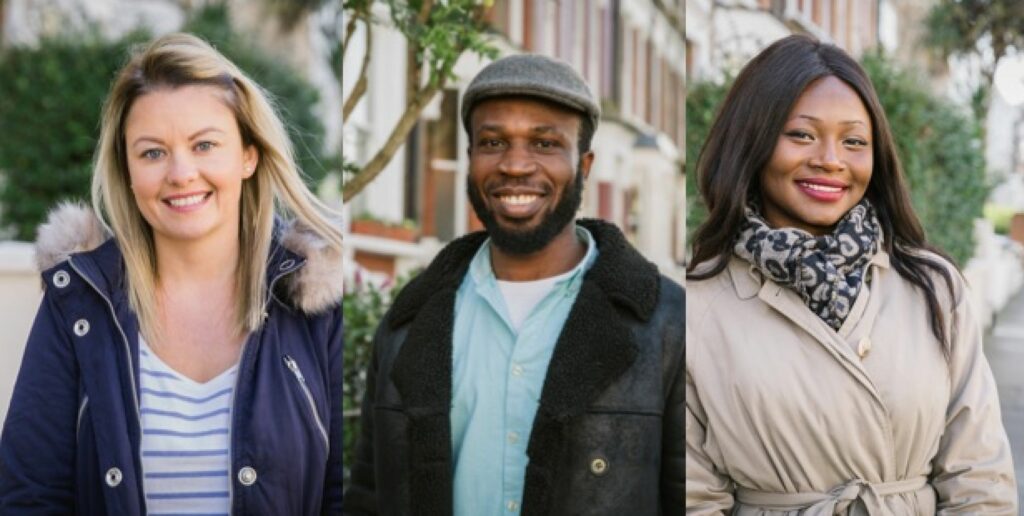 With our live-in home care service, we work hard to ensure your carer is entirely suited to your loved one's circumstances and personality. We also know that conversation is fundamental to caring, which is why all our live-in carers are fluent in English and have a warm, friendly personality. Sometimes just a sweet cup of tea and a good chat can make all the difference.