Different types of care
---
Whether dementia care, respite breaks, reablement or nursing care, we offer support to loved ones in their own homes with our leading live-in care service.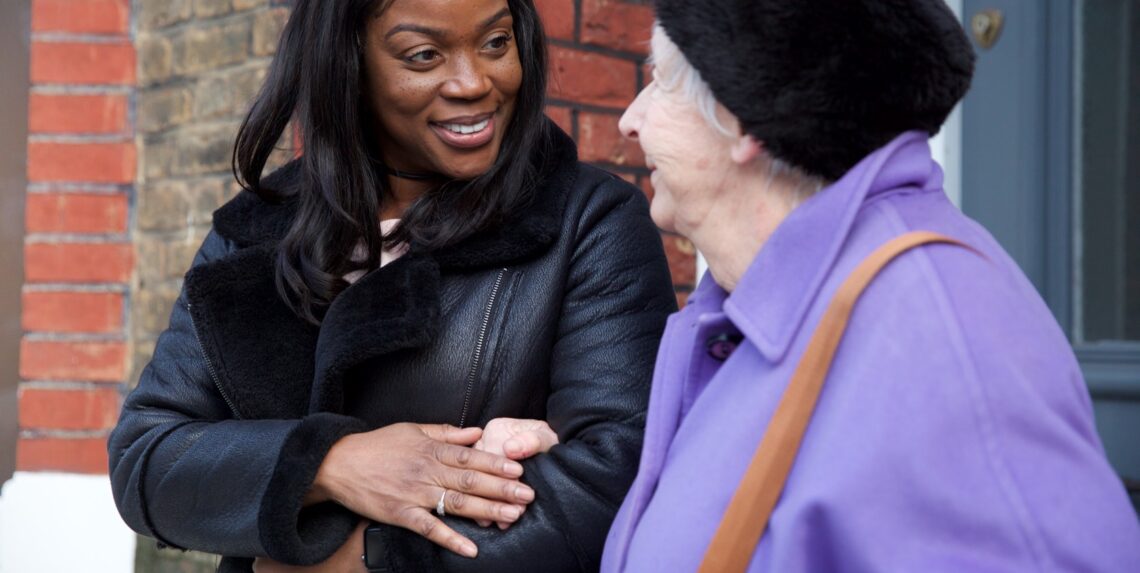 Live in care
Our flagship ship service is live in care, which has particular characteristics and involves the carer living in the client's home.
Innovative brain health focused care
Our approach to care takes the latest scientific research and combines it with our years of care experience. We focus on understanding and tracking the symptoms of cognitive impairment and more — we aim to help keep your brain healthier for longer. You can get access to advice from our specialists, and personalised guidance on diet, general wellbeing, activity levels, sleep quality, physical health and mental stimulation.
While Hometouch focuses on ensuring you are cared for from head to toe, that care comes in many different forms.
Dementia care
Dementia care is particularly geared towards minimising the risks associated with dementia – for example, extra care will be taken to 'dementia-proof' the environment and be vigilant around wandering (a common behaviour shown by people living with dementia). On a practical level, dementia care will help the care recipient with taking their medication correctly and ensuring they don't forget meals.
Nursing care
Nursing care for the elderly is specialised care from a qualified professional, who knows how to treat certain medical conditions and/or maintain a medical appliance. This might involve PEG feeding or changing of colostomy bags, use of hoists or specialist physiotherapy.
Read more about nursing care
End of life care or palliative care
End of life care means care for those who are approaching the end of their life, including their family and friends. It often means the treatment of symptoms and can extend to counselling or spiritual guidance. Palliative care is often focused on making sure the person nearing the end of life is comfortable, and may involve administering medication and offering emotional support.
Find out more about end of life care
Companionship care
Companionship care provides support for those who are isolated and lonely, but still healthy and happy to remain in their own home. Often, companionship care will provide some day-to-day practical support such as helping with chores. Primarily, companionship care focuses on helping the personal receiving care to live a socially active life – whether that's a cup of tea and a game of cards or a trip to visit family and friends.
Find out more about companionship care
Reablement
Reablement is offered to people who have suffered an acute episode of illness to help them get back on their feet quicker. This often involves mobility support and physiotherapy.
Find out more about reablement.
Respite care
Respite care is care provided for a set amount of time, while the usual care giver takes time to rest from their regular care duties.
Find out more about respite care
Postoperative care
Postoperative care can improve rehabilitation and allow your loved one to live safely as they heal and regain their independence. Often, this will involve physiotherapy, mobility and dietary support.
Find out more about postoperative care.
Overnight care
Overnight care can help you to get a good night's sleep when you would otherwise be worried about the welfare of your loved one. An overnight carer will be able to help your loved one get ready for bed, monitor them at points throughout the night and help them with things like using the toilet or taking medication. The cost of overnight care will depend on the amount of times the person receiving care requires assistance during the night.
Find out more about overnight care.
Disability care
Disability care is simply practical help with anything from everyday tasks like housework and bathing, to assistance with complex needs. Specially trained carers can be employed to come into the home and lend a hand. Disability care covers a broad spectrum – from people with learning difficulties to people with spinal injury, and so the types of activities can vary
Find out more about disability care.
Hourly and visiting care
Hourly care is where a carer assists for a set amount of hours per day and does not stay with the care recipient. Hourly care is typically charged (as the name suggests) by the hour and can be a good option for people who might just need a small amount of care a day, for example making sure they take their medication correctly. For longer periods of time, it may be more cost effective to use a live-in carer.
Understand the costs of hourly care.