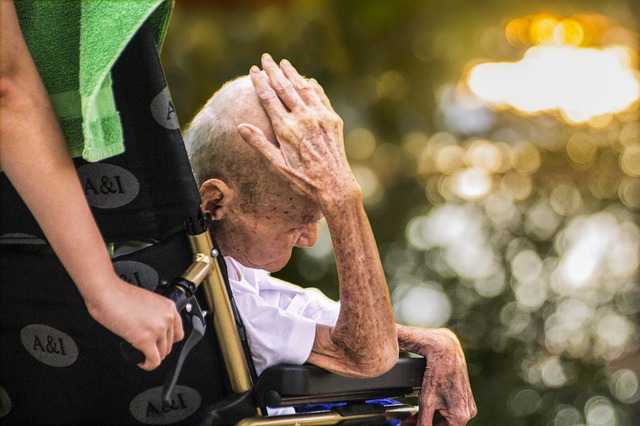 ---
Nursing care for the elderly is specialised care from a qualified professional, who knows how to treat certain medical conditions and/or maintain a medical appliance.
---
Different types of care
Live-in home care, care homes, residential facilities, nursing care – when you're struggling to find support for a relative the language can be confusing. It may seem impossible to understand the differences in the type of care offered so that you can work out exactly what is right for your loved one.
What is nursing care for the elderly?
Simply put, nursing care for the elderly is care that is provided and supervised by a registered qualified nurse. Technically it goes beyond the supportive home care provided by most domiciliary and residential caregivers. It involves clinical care that can allow people with complex conditions and care needs to be safely supported.
Nursing care is routinely offered in hospitals and hospices, but this level of care can also be provided in the home or in a nursing home. Nurses are able to deal with:
Tracheostomies

Monitor ventilation

Complex continence issues

Stomas

Catheters

Tube feeding through a gastrostomy
Qualified nurses have the training, experience and expertise to manage these challenging issues, so that the person they care for can live comfortably and with dignity.
---
If your loved one has no complex medical conditions and simply needs support to live independently in their own home, a home carer may be the solution you need. Find out more.
---
What is the difference between a nursing home and other residential care?
Care homes and nursing homes (or care homes with nursing) are not the same thing. Although both describe residential facilities offering accommodation, meals, personal support and around-the-clock staff supervision, there are significant differences in the level of care provided.
As well as care assistants and other ancillary staff, nursing homes have registered nurses on duty 24 hours a day. This means that they're able to safely care for people with complex and advanced diseases needing regular nursing assistance.
---
To find out more about the different types of care.
---
Who needs nursing care at home?
Home carers are able to help with everything from chores to feeding, toileting and self-care. Live-in carers can provide around-the-clock support, which can be invaluable in the later stages of dementia. However, for more complex conditions or advanced illnesses, more specialised support is necessary. Nursing care can be vital for people with progressive neurological conditions such as MND or multiple sclerosis as well as individuals with severe strokes, brain and spinal cord injuries, advanced dementia or terminal cancer.
Funding nursing care
If someone has a healthcare rather than a social care need, they may be entitled to
NHS continuing healthcare funding
. This covers the full cost of care in their own home, or in a nursing home. People with dementia are often assessed as having social care not healthcare needs but they may be eligible to receive a
weekly contribution
towards funding for a lower level of nursing care.
Where to access nursing care?
You can find nurses through an agency or through private advertising. Private employment can be cost-effective. However, complex care requirements make the need to arrange illness cover and to check paperwork and qualifications even more pressing. For this reason it is usually advisable to use a reputable agency for nursing care. The agency will vet all nurses, check references, oversee all aspects of care and take the hassle away.
The United Kingdom Homecare Association
can help you locate a nursing agency in your area.
If residential nursing care is needed, the
NHS
and
Which
offer more information and search facilities.
If your loved one needs care, but not nursing care
As nursing care is specialised it might be that your loved one simply doesn't need it. Unless they have a specific medical condition that requires specific medical expertise to ensure safety, an experienced home carer will answer your needs.
Home carers are often experienced in dealing with all sorts of ongoing conditions and are able to support your loved one in their own home. Whether they need companionship, help around the house, help using the bathroom and getting dressed, or in keeping to their medication regime, a home carer can answer their needs.
Find out more about the different types of care:
Find a carer
We're here to help. Call us if you have any questions.

020 3797 0086
Care articles
Finding care can be daunting, but our in-house experts help make it simple. Explore our home care tips and informative articles written by healthcare professionals.