Tips for keeping older people safe in winter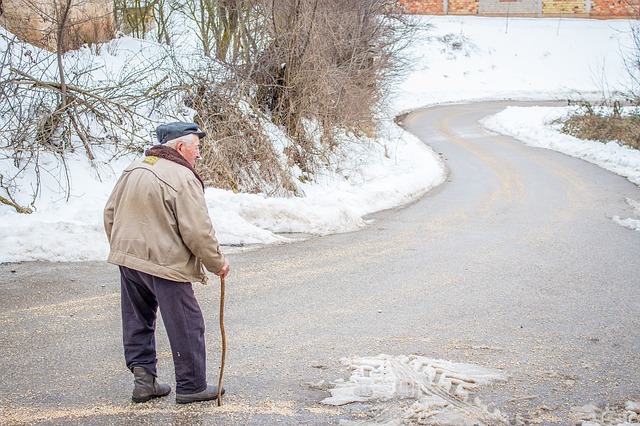 Crisp winter days can be beautiful, but the lower temperatures can be bad for your health. Figures show that winter weather can increase the risk of deaths from cold-related illnesses – and the elderly are particularly vulnerable.
Higher numbers of deaths occur during the winter months from December to March. There were over 30, 000 excess deaths in people over sixty-five in the winter of 2016/2017. But our chilly climate is not the only culprit. Caroline Abrahams, charity director at Age UK said:
"The UK has an appalling record on cold-related deaths, with one older person dying every seven minutes from the winter cold. Colder countries like Sweden are better at protecting older people from the cold."
Cold-related conditions
The relationship between temperature, infections, illness and mortality is complex. But we know that some illnesses occur more commonly in the winter, especially when temperatures drop. Most additional winter deaths are caused by cardiovascular diseases like heart attacks and strokes, dementia and Alzheimer's disease, respiratory conditions and infections like influenza. The Office for National Statistics states that one third of all excess winter deaths were caused by respiratory diseases.
What happens when winter comes?
Cold temperatures, icy paths and roads, dark evenings and close confinement can all mean that infections, falls and accidents are more common in winter. Weather is a factor in explaining the higher death rate, but the Nordic countries have much colder winters and better mortality rates, so it's not just about the level of the mercury.
Caroline Abrahams believes that the problem in the UK is linked to inadequately heated homes, fuel poverty and social isolation:
"Many older people will be feeling anxious about the cold snap, not least because high heating costs are prohibitive for many, resulting in large numbers of older people finding it virtually impossible to stay adequately warm.' She added: 'In addition, we know the NHS and social care are under unprecedented strain and the net result is that poorly older people, often living alone, are not always getting the effective, timely help they need to nip emerging health problems in the bud."
Heating risks
Avoiding heating-related dangers: In extremely cold weather, people often try to heat their homes using unsafe methods. Space heaters should never be used unattended, for long periods of time, on surfaces that are not heat-safe, or near curtains and other flammable materials. Candles should never be left unattended. Cooking ovens and grills should never be used as heat sources because of the risk of carbon monoxide poisoning and fire hazard.
Travel carefully in icy weather
Icy pavements and roads can be very slippery. Take extra care if you go out and wear boots or shoes with good grip on the soles. The Met Office advises putting grit or cat litter on paths and driveways to lessen the risk of slipping. It adds that you should wait until the roads have been gritted if you're travelling by car.
Stay safe this winter
With a little preparation, you can protect you and your loved ones as winter approaches:
Wrap up
Stay warm whether you're in, or out and about. Choose lots of layers to trap in the heat and don't forget to wear a hat when outside.
Keep the home warm
Age UK recommends keeping your living room heated to 21°C or 70°F and your bedroom to 18°C or 64°F. Set the timer and thermostat so that you stay comfortable.
Insulate
Close the curtains, fit thermal linings and keep windows closed especially in chilly evenings. Ramp up the insulation if you can, there may be financial help available for loft or cavity wall insulation. While you're waiting, draught-proof windows and doors to keep fuel bills in check.
Stay safe
Have the boiler serviced and the chimney swept every year. Install a carbon monoxide monitor to check for dangerous fumes.
Elderly people are a priority
Energy suppliers have Priority Service Registers offering the elderly help and support, so ensure your loved one's needs are documented.
Get vaccinated
Have a flu jab every year and check that you've also been vaccinated against pneumonia.
Protect against falls
Wet leaves, ice and puddles make falls more likely in the winter. Make sure that footwear fits well and that soles aren't slippery.
Stay healthy
Staying hydrated and eating a healthy balanced diet will nourish your body and help protect against illness and infection. against illness and infection.
Infection protection
Careful hygiene and handwashing will prevent the spread of colds, flu and other viruses.
Consider care support
A carer can come into the home and keep an eye on a loved one's health and wellbeing, so that they can stay safe and comfortable throughout the year. They can prepare snacks, help with chores and pick up any health problems at an early stage.
Age UK offer support and advice for anyone worried about staying warm and well in the winter. Their free advice line is on 0800 169 6565.