The 4 best bed rails for adults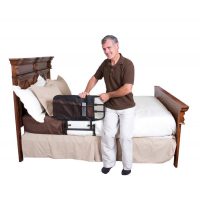 When someone close to you becomes frail or develops dementia, it can be hard to know how to keep them safe. Bed rails can be an important safety feature, as they can prevent nighttime falls, provide support when getting in and out of bed, and in some cases discourage wandering. Updating the home with safety equipment can help your loved one stay in their own home for longer.
Adjustable bed rails
An adjustable bed rail be extended to fit the length of the bed, or even contracted while the user is getting into bed and then extended again when they're safely in place.
30" safety bed rail
A 30" safety bed rail can offer protection against rolling out of bed, and also folds down so as not to get in the way when not in use. It can be attached to either a framed bed or a divan bed.
Nottingham Nightguard
The Nottingham Nightguard is a great option if you've got a divan bed, offering support and fall prevention. The rail is held in place by the weight of the person on the mattress.
Double-ended bed lever
The double-ended bed lever can be easily installed beneath a mattress and is adjustable for different bed sizes. Its ergonomic handles are especially useful when transitioning in and out of bed, and (as the name suggests) it offers support on both sides of the bed.