Stroke Treatment At Home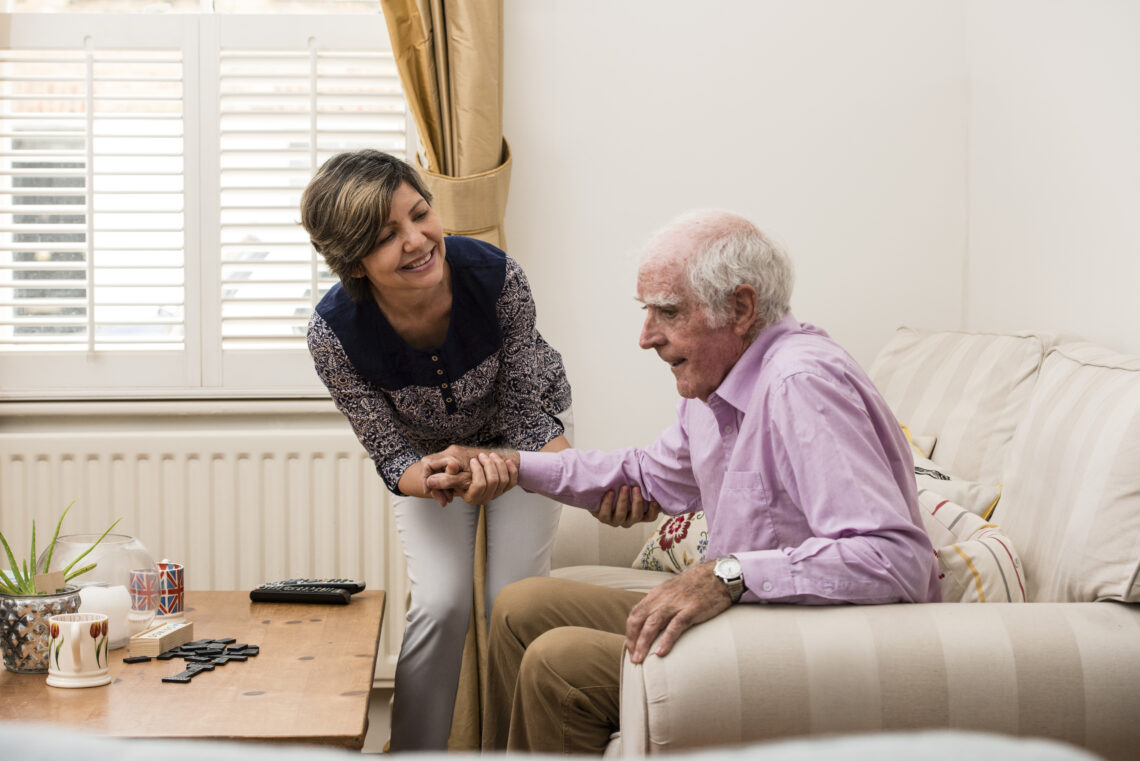 When someone who has suffered a stroke is ready to be discharged from hospital, the team will work with you as a family to plan the process, so your loved one can continue to have safe stroke treatment at home.
Speak to one of our knowledgeable care advisers about Hometouch's high quality live-in care service
Stroke treatment at home
The brain injury caused by a stroke can be devastating for the individual affected, and difficult for those who love and care for them. However, with support you can help them to recover and rehabilitate with dignity, in the comfort of their own home.
A stroke can cause extensive and long-lasting damage to the brain. Recovery can be unpredictable, with some people regaining function rapidly and others taking much longer and needing ongoing support and care.
The process of healing and rehabilitation depends on the area of the brain affected as well as the extent of the damage.
The initial effects can be frightening but it's important to remember that the recovery is often gradual. The human brain is an extraordinary organ and continues to mend and renew throughout the weeks, months and years to come.
Planning and preparation
When someone who has suffered a stroke is ready to be discharged from hospital, the team will work with you as a family to plan the process, so your loved one can continue to live and recover safely.
If your loved one has reasonable mobility, then early supported discharge may be possible. This enables the same level of rehabilitation as would be offered in hospital to be carried out at home.
The social worker should assess the home environment, complete a community care assessment and work with you to ensure that all care needs can be met. They should also help you access all the financial support to which you are entitled.
Your loved one may be allocated a direct payment to help them to choose and control the right care for their individual requirements. This could be a day centre, meals on wheels or a home caregiver to provide adaptable support and assistance.
From hospital to home
When you leave the safety of the hospital ward, there will no doubt be a feeling of relief maybe mixed with a little fear.
Don't panic, you are not alone. You will be supported by your community stroke team every step of the way.
These are health professionals who are experts in after stroke care including: community stroke nurses, physiotherapists, speech and language therapists, occupational therapists, dietitians and psychologists. They are there to assess your loved one's needs, set goals and provide continued specialist care in the community.
The road to recovery
Stroke rehabilitation will start in hospital and continue when you are out in the community, either in your home or in a local clinic or GP surgery.
Many people can make an excellent recovery from a stroke and regain mobility, skills and independence.
Your community stroke team will help with this process, support with exercises to improve function and offer practical adaptations to make getting around, eating and living at home that little bit more manageable.
The challenges of care
The sudden nature of a stroke can leave your loved one frustrated and depressed.
The change in abilities and family dynamics can be challenging for everyone.
Research shows that many families struggle, especially in the first twelve weeks after discharge. Support is essential to protect each and every carer's health and wellbeing, so that they are able to continue the vital role of caring.
It's essential to have rest and respite.
Your social worker should perform a carer's assessment to check your needs. Don't feel guilty, the stress of caring can affect your physical and mental health. With some time out, you can maintain your own wellbeing and return home to your loved one with your energy and enthusiasm restored.
A helping hand
Carers can be employed to come into the home and help out with everything from chores to physiotherapy exercises, cleaning to using the bathroom, mobilisation to a chat and a cuppa.
HomeTouch carers have had all the necessary checks and their references have been followed up, so that you can relax and concentrate on choosing the right person for your family.
Many have the specific skills, expertise and experience to provide specific stroke treatment at home. They can deal sensitively with complex needs, incontinence issues and all aspects of supporting self-care. HomeTouch carers provide both hourly care and live-in care.
A stroke can be life changing for the individual and the whole family. It is a difficult and demanding time, but with the right assistance you will get through this challenge and help your loved one on the road to recovery.