Social interaction and brain health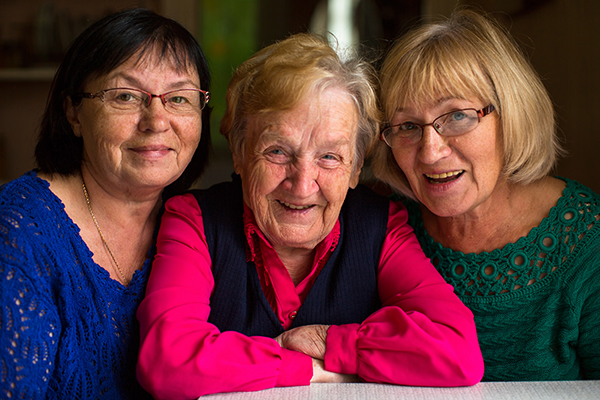 Humans are social creatures. We thrive from interaction with people around us. Chatting about our lives, debating current affairs, discussing films and books or gossiping about friends or celebrities, can all spark our interest and fire our imaginations.
Human contact doesn't just feel good, it can also make a difference to our brain health and wellbeing. There's evidence that people who are active socially may suffer from fewer memory problems compared with those who spend much time on their own. Recent studies have also suggested that elderly individuals who admit to loneliness are more likely to develop dementia.
Brain changes and social life
The brain is incredibly adaptable, it is able to form new connections and pathways as we gain new knowledge and experiences. This ability is called neuroplasticity.
Nerve cells in the brain can also alter in response to social interaction. This plasticity is vital for the brain's healthy function throughout life, and becomes particularly critical as we age. It's key to the skills of memory, understanding, communication and emotion. Many factors interact to determine our brain health, including our diets, exercise and the way we live our lives- staying social may be an important part of the jigsaw.
Music as medicine
Playing music can reduce depression, stimulate the brain and help you stay healthy. In a study older adults that learnt a new instrument improved their attention, memory and ability to solve problems. Their mood and quality of life were also boosted. The researchers from Johns Hopkins in the USA said:
'If you want to keep your brain engaged throughout the aging process, listening to or playing music is a great tool. It provides a total brain workout.'
A choir, orchestra or beginners music class could offer music and social fun for even more benefit. Find out more about music therapy and dementia here.
It's good to talk
Research confirms that when it comes to the brain, we need to 'use it or lose it'. Stimulating and challenging the brain helps it stay fit and firing. Puzzles, games and reading can help you stay cognitively active, but it appears that when it comes to brain training, we need a little help from our friends.
Researchers at the Oregon Health & Science University and the University of Michigan have suggested that human interaction and conversation could be the keys to maintaining brain function as we grow older. In a paper in Alzheimer's and dementia they said:
'One integral component of being socially active is the ability to interact with others'
When it comes to dementia and interaction, it's a chicken and egg situation. What comes first? We know that the ability to talk and communicate effectively is affected by cognitive decline. Alzheimer's can can cause memory loss, personality changes and impaired communication which can all increase the risk of social withdrawal. However, isolation may also be one of the causes of cognitive problems.
Psychological studies show that conversation stimulates the brain. It may seem effortless to many, but it requires a complex combination of skills including attention, memory, thinking, speech and social awareness.
The power of conversation
The research indicated that face-to-face conversation could improve cognitive skills in the elderly. In the study volunteers had online video chats that engaged them in storytelling and sharing their opinions, memories were also triggered using photos or questions.
Conversations can help individuals keep their brains healthy- but staying social can be a challenge as we get older. The elderly are at risk of isolation because of problems getting out and about, the death of friends or partners and illness. It can be difficult for family carers to juggle the demands of work and the needs of aging relatives.
How can we ensure that the frail elderly get the stimulation they need? This research suggests that if you're unable to pop in to visit, having a good chat over Skype or Facetime could mitigate loneliness and provide an opportunity for social contact and conversation. Indeed, studies have shown that having friends and family in touch is more important in warding off loneliness than the actual number of visits.
Social interaction and depression
Psychological wellbeing and sociability affect how well we age. Depression is more common in older people and has a serious impact on quality of life, health and longevity. But depression isn't inevitable as we age, physical illness, grief, and loneliness can all trigger the condition.
Offering support, treating the underlying disease, medication and addressing any contributing factors can help an individual come through their depression and start to enjoy life again.
Age UK estimates that more than a million older people in this country can go for over a month without chatting to a friend, neighbour or family member. This can leave them vulnerable and alone, but often with too much pride to admit the problem or ask for help.
Isolation is bad for our hearts and minds. Loneliness is one of the three main factors leading to depression and suicide. Age UK has said that:
'Loneliness can be as harmful for our health as smoking 15 cigarettes a day'
A helping hand
If your loved one is lacking social interaction, there is help available.
Look for a day centre or club in your local area, so that they can explore new interests and meet friends.
The internet offers a community at the click of a keyboard. Sites like Gransnet or Over50sForum can put your loved one in touch with hundreds of other silver surfers.
The University of the Third Age has an excellent selection of courses for adults of all ages. They can provide intellectual and social stimulation and the chance to learn new skills or develop old ones.
Age UK and Friends of the Elderly offer befriending services for a chat, a listening ear, and contact with the outside world.
Home carers can also provide practical support and also offer comfort and companionship. Hometouch can help you to choose the right carer, with the reassurance that they have carried out all the important checks and followed up references.
Hometouch offers brain health focused care to help people with dementia and cognitive impairment to have more active and fulfilling lives.