Preventing Loneliness and Isolation in an Elderly Parent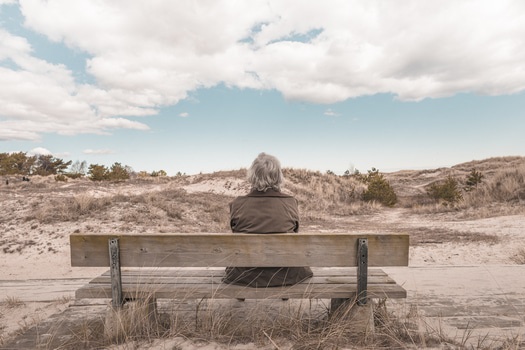 ---
You can help to prevent loneliness and isolation in an elderly parent by getting organised with family and friends, neighbours, researching courses and local events, and considering specialised holidays.
---
Preventing Loneliness and Isolation in an Elderly Parent
The elderly can be at risk of loneliness and isolation but with support you can help them get the care, company and contact they need.
The elderly can be vulnerable to loneliness because of the death of a partner, the loss of friends and problems with mobility and illness. When a parent feels lonely, it can be difficult to deal with.
You can do your bit to ease their solitude, but it can be tricky to juggle the conflicting demands of work and family, especially if you live at a distance from your parent.
---
The truth is that social isolation can have very negative effects on your parent's health and wellbeing and recent studies have suggested that older people who say that they feel lonely may actually be more likely to develop dementia.
---
The memory loss, communication problems and personality changes of Alzheimer's can compound the problem, as it may feel to your loved one, like they have been alone for longer than they really have been.
The good news is that there are lots of opportunities for the elderly to study, travel and stay social. With support they can make new friends, enjoy fresh experiences and make the most of their twilight years.
So what can you do?
Family and Friends
Most people with dementia rely on relatives and friends for social contact, but according to research, one in five people spoke to friends or family less than once a month.
Pick up the phone to your loved one, or get the family together to organise a rota so that they stay in touch. The research shows that actually having friends and family in contact is more important in warding off loneliness than the specific number of visits.
Social circles
According to Age UK, group activities can be particularly useful in helping older people out of loneliness and isolation.
Check out local day care centres that offer activities, support and socialisation for the elderly. Alternatively there may be clubs and societies where they can explore their hobbies and keep their minds active.
For those affected by dementia, the Alzheimer's society runs support groups that can be a valuable source of local information and company.
Home care services
Consider employing a carer to come into your parent's home and help with chores, provide practical support and also offer a listening ear, a friendly smile and a little company.
---
Accessing help and assistance early could help your parent cope at home and maintain independence and dignity.
---
HomeTouch can allow you to choose the right caregivers for your parent, safe in the knowledge that all the necessary checks have been done and their references have been followed up.
From another angle, a carer can offer more than just company for your loved one. Elderly relatives like to downplay their struggles, and it can be difficult to really know how they're getting on. A carer can provide impartial eyes and ears, giving you feedback you can trust.
Travel mates
There are holidays specifically designed for single travellers over the age of fifty. Whether it's a cruise, coach tour, beach break or far-flung adventure, a trip can help your parent to gain new experiences and meet like-minded people.
If your parent has mobility issues and care needs Revitalise provides short breaks in this country as well as offering specific trips that are tailored towards individuals with dementia.
They offer around-the-clock nursing and personal support as well as a range of outings and activities.
Four-legged friends
A pet can be an extraordinary source of companionship and love. Just stroking them can decrease stress and increase wellbeing.
A dog could also give your parent a reason to stay active and maintain a good routine.
Encourage hearing and vision tests
It can be difficult to get out and mingle with friends when you're struggling to see or hear.
Deafness and visual problems can increase isolation. Make sure that your parent has their ears and eyes checked and that any glasses and hearing aids are up to date and working properly.
Silver surfing
The internet means that a whole community of virtual friends can be at their fingertips twenty-four hours a day.
If they're not computer savvy, a course could be a great way to make new friends and develop useful skills.
Never too old to learn
If a computer course doesn't appeal then what about studying baking, creative writing or local history. There are loads of courses for people of any age.
Check out Lifelong Learning or the University of the Third Age to see if anything appeals or inspires.
Dining together
Eating with others is fun and social.
Encourage your parent to share a meal with others whenever possible; this could be Sunday lunch with the family, a meal at a day centre, regular breakfast at a local café or a get-together at a church or religious group.
It will also make sure they continue to eat well and get the nutrition they need.
Befriending services
Age UK and Friends of the Elderly offer a friendly chat and a listening ear to people who feel lonely.
These can be face-to-face or on the telephone and can provide companionship, comfort and contact with the outside world.
Transport troubles
Being unable to get out and about is a big contributor to social isolation, especially in rural areas.
Offering lifts to loved ones, researching bus timetables and helping them access public transport can help.
Alternatively try and find a friendly local minicab or set up an Uber account to help them stay socially active and independent.
There are lots of opportunities for the elderly to study, travel and stay social and with a good support system they can make new friends, enjoy fresh experiences and make the very most of their twilight years.