Moving from a care home to live-in care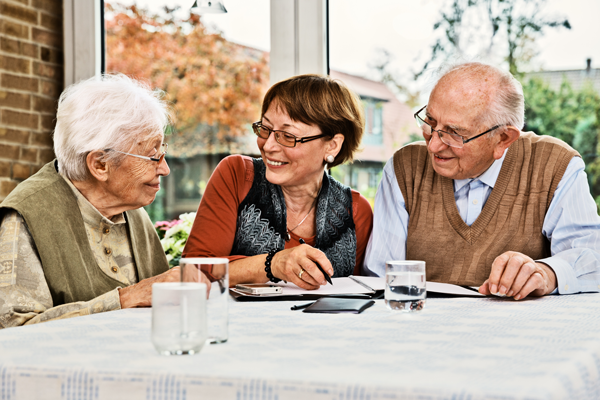 Choosing the right care for a loved one can be a challenge. The choice can seem overwhelming. Dementia, disability, family commitments, or a crisis at home can make a residential facility look like the only option. However, the change in environment and routine may not suit all individuals.
Living away from home comforts and friends may cause dissatisfaction or depression, and may increase confusion in people with dementia. If a care home is not working for your loved one, then live-in care at home is a valid alternative. Meanwhile, this type of care requires finding live in senior caregivers for your loved ones.
Nursing care can be the right choice for many individuals – but some people are resistant to residential care, and others struggle to settle in an institutional setting. It can be painful and distressing when the person you love is unhappy in the place they live. It's sensible to allow them a little time to adapt to their new environment; however there are ways of enabling them to return to their own home and supporting them to live safely and dignity.
What is live-in care?
Live-in care is twenty-four-hour care that is provided in a person's own home. Carers can be hired to provide around-the-clock supervision and support. Professional carers can offer help with anything from household tasks, medication, mobilisation, dressing, and washing, to toileting and dealing with the challenging behaviours of dementia.
Finding live in senior caregivers is key when it comes to home care. The right carer and level of care provided will depend on the individual's needs. Conditions like cancer or dementia are progressive, meaning that the person's health and function will gradually deteriorate. Home care can increase in response to this developing demand. Experienced specialist carers can help with complex needs like incontinence, tube feeding or ventilation, so that even towards the end of their life your loved one's comfort can be maintained.
The advantages of live-in care
The big benefit of live-in care is the fact that it allows someone to move back to the home they love, in a place that is familiar, close to friends and filled with their favoured things. Our lives follow patterns that have been honed over time. A routine can be comforting and reassuring. It's not just about being stuck in our ways; there's evidence that keeping to a familiar place, and following a regular pattern of activity can help maintain function and independence, especially in people with dementia.
A care home can provide social stimulation and supportive care, but it can be tricky to escape for some peace and privacy. There can also be significant staff changeover, making it difficult to build a rapport. With live-in care from Hometouch, you have the choice and control to choose caregivers. You can pick someone that is the right fit for your loved one, safe in the knowledge that their focus will be on their care, with no conflicting demands on their attention and time.
Live-in care can be particularly cost-effective if two people need support. If, for example, one parent has been living in a care home and the other starts to need assistance, it may make sense for them both to have in live-in care at home. They will be able to enjoy the rest of their days, living together in the house they love.
Speak to one of our knowledgeable care advisers about Hometouch's high quality live-in care service
Funding care
Live-in care can be paid for privately or with the support of the local authority, following a care needs assessment. Do I have to sell my home to pay for care? People with capital, home equity or income over £23,250 have to pay home care fees and may need to sell their home to fund this. However, currently, there are different rules for people being cared for at home. Age UK says:
'Your ability to pay for care will be worked out through a means test. Your home will not be included if you're arranging care and support at home and may not be included if you live with a partner, child, or a relative who is disabled or over the age of 60.'
Preparing someone for moving home
How is your loved one's mobility, self-care, and function? It may be necessary to plan a home visit before moving back home so that any necessary adaptations can be made. Think about stairs, bathroom facilities and get rid of trip hazards like footstools, rugs, and trailing cables.
Talk to a social worker, your GP or an occupational therapist for advice. Handrails, anti-slip bathroom mats, and mobility aids may make a difference.
Preparing your home for a live-in carer
Although finding live in senior caregivers can be difficult, preparing the home for them is more tasking. You should make some preparations to ensure the home is ready for a live-in carer.
As they will be living in the house in which they work, there are a few practical matters to consider to allow them to work and rest comfortably.
Living space: Carers need a dedicated personal room for privacy, downtime, and sleeping. There may be a spare bedroom already, or a study or dining room could be repurposed. If you loved one struggles with stairs, they could move back to an accessible downstairs room, leaving space for the carer to upstairs. Make sure it's clean, warm, bright and has plenty of storage space.
Bathroom: The carer will be living in the home, so will need facilities for washing, bathing, and toileting. A bathroom doesn't need to be en-suite, but it has to be clean, functional and lockable.
Wi-fi: Internet access is no longer a luxury; for many people, it is a basic necessity. Set up reliable wifi so that they can get online.
Security matters: Provide a secure place for the carer's valuables and lock your loved one's money, jewellery and documents safely away. hometouch carers will have had thorough criminal record and references checks – but it's not uncommon for people with dementia to misplace precious items and blame carers or family members, so it's better to be careful.
If you are worried that a care home is not the right place for your loved one, don't panic. With some planning, it is possible to safely move from a residential facility to live-in care, ensuring that they can be supported to live in the home that they know and love.
Our care guide has plenty more on how live-in care could be the right choice for your family. You can download your free copy below.