Managing wandering in dementia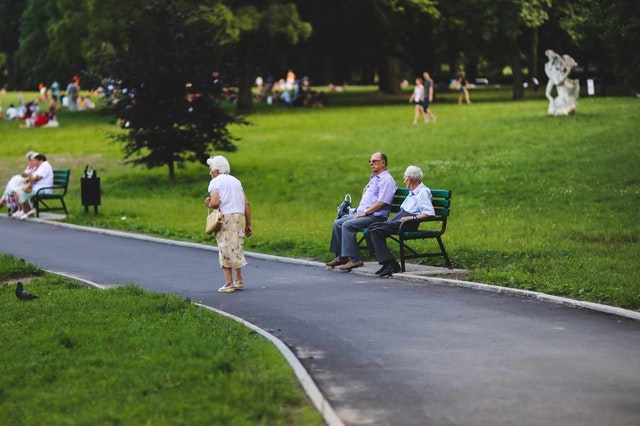 When an individual with dementia wanders, they're at risk of accidents, injuries and even death.
Wandering is defined as:
'A tendency to move about either in a seemingly aimless or disoriented fashion, or in pursuit of an indefinable or unobtainable goal.'
Confusion, disorientation, boredom and loneliness can all precipitate wandering in someone affected by dementia.
The dangers of wandering
The brain damage of dementia can impair memory, comprehension and communication. This deterioration in mental function can make it difficult for an individual to navigate, deal safely with traffic, assess risk and ask for help. Consequently, wandering away from the safety of home without a competent chaperone or carer, can put them in danger.
Research confirms that wandering can increase the risk of falls and fractures, can cause weight loss, instigate a decline in communication skills and could lead to institutionalization or a premature death. Wandering can also be frightening, exhausting and stressful for family caregivers. A ten year longitudinal study into wandering concluded:
'Wandering behaviour in dementia can cause great problems for carers. There are different causes for such changes, some of which are related to cognitive ability, for example increased confusion results in ineffectual "pottering" and getting lost. Increased walking at night corresponds with disruption of diurnal rhythm'
Indications that someone may wander
Six in ten people with dementia will wander – and although anyone who is mobile and has memory loss is potentially at risk of wandering, it is often more of a problem in the middle stages of the disease. This is when there is significant impairment of thought and understanding, without limitation to mobility.
At hometouch, we provide trained carers and nursing staff that can support families with relatives living with dementia. Our professional caregivers have specialist experience and expertise in the care of individuals with dementia. They look for key indicators that an individual may be prone to wandering, so that they can work with the family to keep them safe and well. These include:
Appearing distressed or unsettled.
Pacing, making repetitive movements or seeming restless.
Disorientation in place. If someone feels lost and confused at home, they may try to seek out somewhere familiar.
Family or friends report the individual is getting lost on outings, or taking a long time to return.
Seeking out places or people from the past
Restlessness and wakefulness at night.
Speak to one of our knowledgeable care advisers about Hometouch's high quality live-in care service
Preventing wandering
Wandering can be frustrating and frightening for family carers. It's a challenge to stop a resolute and persistent wanderer. Preventing wandering is a careful balance of maintaining an individual's liberty, dignity and independence, whilst keeping the individual safe. Professional carers understand this delicate equilibrium and can offer respite, taking the pressure off the family.
Historically, there has been an emphasis on using medication to sedate and prevent some of the more challenging behaviours in dementia. However, increased research and experience has shown that this is often not the right approach, ethically and practically. A Cochrane Collaboration review into the subject emphasised that:
'There seems to be a consensus in the literature that in the majority of cases non-pharmacological approaches may work as well as drug treatment and with fewer side-effects.'
There are a number of non-pharmacological strategies that may help reduce dangerous wandering and protect patient welfare.
Keep to a routine: People with dementia respond to a regular daily schedule, a set pattern can be calming and reassuring.
Identify high-risk times: Individuals with dementia may become restless in the late afternoon and early evening. This is known as sundowning. It can help to arrange activities, physical exercise or visits at this time to add stimulation and prevent agitation.
Provide reassurance: Wandering can be a result of fear, confusion and disorientation. Offering comfort and reassuring them that they are safe can soothe distress.
Attend to their needs: Any action is a method of communication. Many people with dementia are unable to express their distress. Wandering can be a way of acting out discomfort. The most fundamental part of care is identifying an individual's needs and ensuring that they are not in pain, hungry, thirsty, unwell or in need of the toilet.
Offer stimulation: Loneliness, boredom and frustration can cause people with dementia to seek out stimulation by wandering. Providing exercise or meaningful activities targeted to the individual's needs can help them feel fulfilled.
Night care: As dementia develops, night time restlessness can be a problem. Using night lights, avoiding drinks before bedtime and encouraging the individual to empty their bladder before settling down can reduce the risk of confusion in the dark.
Home safety: A home should not be a prison but some practical measures can deter or delay wandering. These include:
Placing a bell or alarm on external doors, so that the carer is aware when someone leaves.
Keeping car keys out of sight.
Ensuring door bolts are installed away from the line of sight.

Managing wandering

Wandering is a form of exercise, so that if it is controlled and supervised it could be beneficial. Wander gardens are being introduced in some areas, so that people with dementia can explore in a safe environment.

hometouch carers work hard to prevent wandering, however even the most diligent carer may be unable to prevent the occasional outing. In these cases, it is sensible to have a number of strategies in place to ensure they are found safely and promptly:

A contact list of local people, friends, shopkeepers and any neighbourhood return groups in the area. Text around a recent photo and contact the police if the person is missing for more than 15 minutes.
Get to know any dangerous areas in the area, such as busy roads, waterways or ditches. They should be quickly checked to prevent injury.
Identify places of interest, such as old homes, places of work or worship. These can be a focus for people who wander.
People tend to wander in the direction of their dominant hand, so it's important to know if they're left or right handed.
I.D: The individual should have clear contact details, such as a sewn-in label, an ID bracelet, a mobile phone or an electronic tag, so that they can be returned safely.

Wandering can be a real challenge for family carers. It can be impossible to provide a watchful eye twenty-four hours a day, so wandering behaviour may be a significant trigger for seeking residential care. However, a care home is not the only answer. Expert care, as provided by hometouch, can help to prevent wandering and maintain safety and wellbeing in the individual's own home.