Live-in Care vs Other Types of Care: What Are the Key Benefits?
When a loved one, either from advanced age, injury, or illness, starts showing signs that they may benefit from personalised professional care and support because they are finding it difficult to live on their own, there are a number of options to consider. As to how to give a loved one the specialised attention and care they need, it is a tough choice to make. Before making this important and challenging choice, it's best to get as much information as possible.
In this article, we'll examine the various options to provide care for an elderly loved one, or one who is sick or injured, or any combination thereof.
Choosing the right type of care for your loved one can be challenging. There are many types of care, and the most important thing to consider is what they need and what you want them to have. For instance, if you know that they thrive in a home environment, it may not be best for them to go into a residential care or nursing home. This article will explore live-in care compared to other care types.
What is Live-in Care?
Live-in care is an alternative to residential care, where a person lives at home and receives support from a qualified live-in worker. The live-in worker provides personal assistance with activities of daily living – such as dressing, bathing, taking medication, cooking meals or providing physical therapy. This type of service is an ideal solution for people looking for more independence and privacy.
For many seniors, the idea of living in a residential care home or assisted-living facility is an unsettling one. They may not want to be away from their families and friends, they might not get along with other residents, or they may simply be too independent for such a lifestyle.
You'll find caregivers who are experienced and qualified in different areas to accommodate all needs so you can choose someone best suited to your situation.
What are The Benefits of Live-in Care?
The benefits of live-in care are numerous. For those who need assistance with their daily living needs, a live-in caregiver can be an invaluable resource. A trained and experienced professional can help maintain independence while providing the necessary support to allow for quality of life within the home. In addition to assisting with activities of daily living, such as bathing and dressing, a live-in caregiver can also provide companionship and emotional support.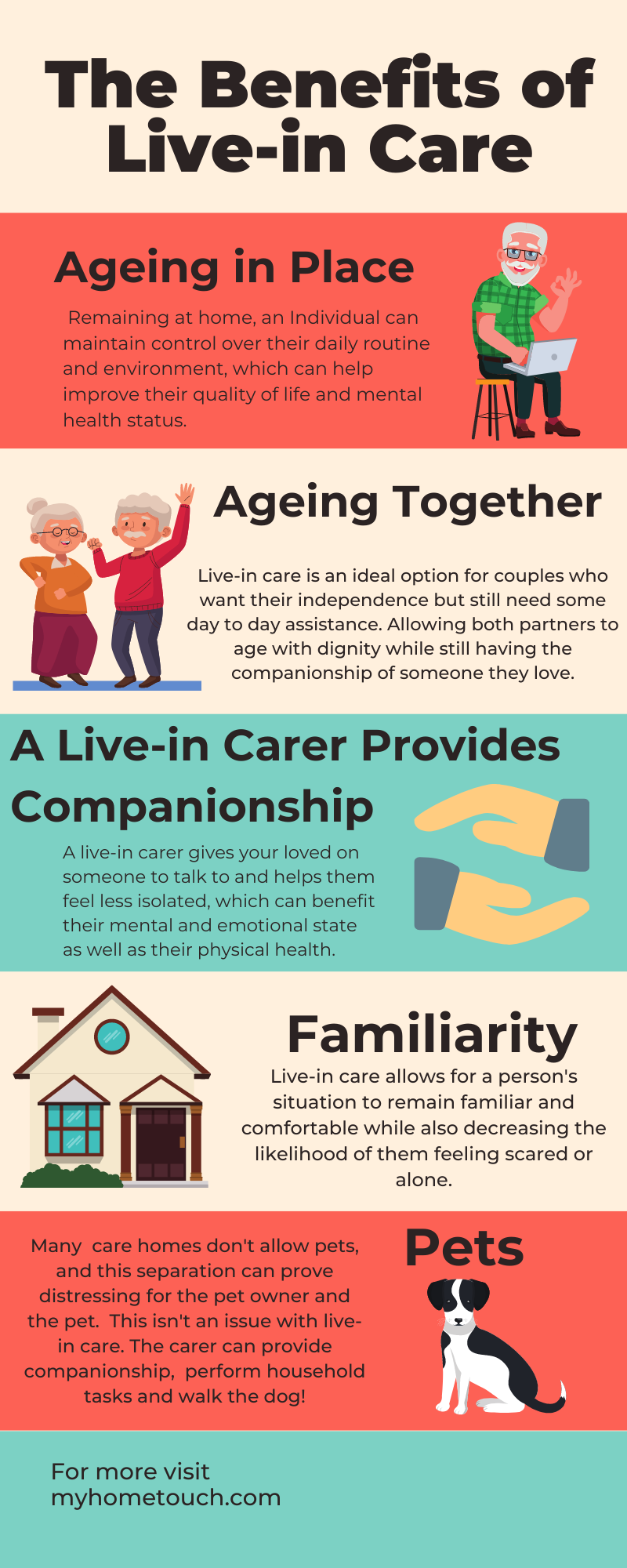 Ageing in Place
Ageing in place is a phrase that refers to the ability for people to live independently and stay at home as they age without the need to move into an assisted living, residential care or nursing home. Allowing older adults to remain independent will support their self-esteem, and they can maintain social connections.
When one remains at home, they can maintain control over their daily routine and environment, which can help improve their quality of life and mental health status. It has become increasingly important as we are living longer than ever, and it is often more cost-effective for seniors to stay in their homes with caregiving assistance rather than moving out.
A Solution for Ageing Couples
Live-in care is an ideal option for couples who want their independence but still need some day to day assistance. Live-in care can be used when one partner needs more help than the other or if health problems mean both partners require additional support. This allows both partners to age with dignity while still having the companionship of someone they love.
Typically one carer can look after the needs of a couple. Though this option does come at a slightly higher premium, it is a much affordable option than having both individuals living in a residential care home.
Provide Companionship
Another benefit is that live-in carers can provide companionship. Having a live-in carer enables your relatives to have regular contact with an actual person on a daily basis. A live-in carer gives them someone to talk to and helps them feel less isolated, which can benefit their mental and emotional state as well as their physical health.
Familiarity
Home for all of us is a place of comfort, security and familiarity. It's no secret that as people age, they generally become more set in their ways and find it harder to adjust to change. For those that have dementia familiarity and routine is even more crucial as it gives them an anchor to grasp onto. Live-in care allows for a person's situation to remain familiar and comfortable while also decreasing the likelihood of them feeling scared or alone.
Flexibility
A significant advantage of live-in carers over care homes is that the individual's routine doesn't need to be changed, and the care can be customised to their needs. As there is a small amount of staff looking after many residents in a care home for it to function effectively, life must be more regimented in this environment. For instance, when it comes to mealtimes, residents won't have much choice of when and what they can eat. In contrast, with the one on one personalisation of live-in care, this can be tailored to the individual.
Pets Don't Need to Be Given Up
It is not uncommon for seniors to want to keep their pets with them as they age. Pets provide unconditional love and give a sense of purpose in life for the elderly. Without a doubt, pets help seniors stay active and are good for their mental health.
Though they are an important part of the lives of many older adults, they can also pose certain challenges for those who need care. Many residential care homes do not allow pets, and this separation can prove distressing for the pet owner and the pet. This isn't usually an issue with live-in care, and in many cases, the carer can provide companionship, help with medication reminders, perform household tasks and walk the dog.
What are the Disadvantages of Live-in Care?
While live-in care can be the best thing for some people, it may not work for everyone. It is important that you have clarity on both the benefits and disadvantages so that you can consider live-in care versus other care types with an informed mind.
Over-Reliance on the Carer
The person may become too dependent on the live-in carer. They will learn to rely on them for many aspects of their lives, making it harder to live without them. On the other hand, live-in carers are trained to support older people live independently and can prevent this from happening. By assessing the level of care required, live-in carers can tailor their support to fit the needs of the individual and ensure that they live as independently as possible.
In contrast, it may be hard for the live-in carer to set boundaries with an elderly person who wants to take on more than they can handle. However, live-in carers usually have many years of experience and knowledge about how to support older people and can help them live life to the fullest while maintaining their independence.
Lack of Privacy
Some people lead more private lives than others, or they might have been living at home by themselves for a long time and find that having a stranger move in is a big adjustment. In most cases, we have found that the live-in carer and the elderly person can soon form a strong bond.
Accommodation
If the house or flat where a live-in carer needs to be accommodated is very small, this could be an issue. It is important to have a spare room for the live-in caregiver. They will require their own bedroom and personal time for relaxation.
What is Residential Care?
A residential care home, also known as a retirement home, is a self-contained residential establishment for the elderly. It is a place where elderly people who can no longer live independently can spend their final years in an environment that is safe and supportive. The home provides assistance with daily living, medication management, 24-hour on-call staff and meals. An elderly relative living in a care home also benefits from social interaction with other residents. They also offer further socialisation opportunities for their residents by organising outings, events, and other activities. Each resident is assigned their own room, which includes amenities like linen, bedding, towels and toiletries; meals are provided three times daily with dietary restrictions taken into consideration.
There are different levels of care available in these homes, which depend on the needs of each resident. The type of care provided usually changes as the person's condition progresses over time.
There is no doubt that residential care homes provide security and support for seniors with varying levels of needs. However, there are many challenges that come with this lifestyle choice, such as lack of independence and isolation from society. So we should discuss the pros and cons of living in a retirement home versus live-in care.
What are The Benefits of Residential Care?
Residential care provides many services that enable residents to live comfortably and independently in an environment where they feel safe and secure while receiving personal attention at all hours. Many benefits come with residential care, such as peace of mind and companionship with other individuals of a similar age.
Socialisation
As we age, we can find ourselves in very different circumstances. We might be in a situation where we have a strong attachment to the community we live in and have friends and family around to interact with. In other cases, the family might have moved on, friends have passed away, and a more isolated existence is experienced. For this reason, it is not always the best option for seniors to stay in their homes and age in place. This is one of the primary benefits of residential care: residents have a social circle of other people who are at a similar stage in life. This makes it easier for them to make friends and get involved in activities leading to a more fulfilling life.
Security and Peace of Mind
Though a residential care home shouldn't seem like a prison, there should be adequate safety and security measures in place to ensure the residents are free from harm. Care homes will have security cameras installed both inside and outside the building, and staff trained in first aid, CPR, and emergency procedures.
One of the safety concerns associated with Alzheimer's patients is that they might wander away from the care home. While those with dementia should feel at ease in their surroundings, they must not be able to leave without supervision. Care homes have gate locks, alarms and security systems to keep them from wandering out.
What are The Disadvantages of Residential Care?
There are some disadvantages to care homes. For example, residents may feel like they have fewer personal freedoms than before because they cannot live independently or make decisions about what happens around them. They may also become bored if the activities offered at the care home do not suit their interests or abilities.
Loss of Independence
One significant downside is the loss of independence many seniors experience when they first enter a residential care home. This can lead to feelings of depression, loneliness or even fear for some residents and can profoundly impact their quality of life.
The food options at most nursing homes aren't as varied as what you might be able to have while cooking for yourself at home, too, so residents have less freedom when it comes to what they would like to eat. At home, a live-in carer can cook the types of meals they enjoy.
Social Isolation
Residential care homes can provide 24-hour staffing and supervision for seniors which may be necessary if someone needs assistance with daily living tasks. Still, the tradeoff here is that these homes don't have the same level of intimacy as staying at home. Residents also often feel isolated from friends and family members, and they might find it difficult to make new friends at the care home or find other residents difficult to live with.
Restrictions on personal freedom and the lack of privacy that comes with it as well as being forced to be around other people who may not get along or have similar interests can lead to social isolation which is very detrimental for health.
There is a wide variety of residential care homes in the UK that may be appropriate for you or your loved one based on budget, needs and preferences. It's essential to do your research before making any decisions about what type of residential care home would best suit your situation to make an informed decision.
What is a Nursing Home?
The difference between nursing homes and care homes can lead to confusion. A nursing home is a care facility that offers nursing supervision by registered nurses for individuals who cannot live independently but do not need intensive medical treatment.
In contrast, a care home is a residential facility for the elderly, usually with less intensive levels of help than in a nursing home. Care home residents typically have less severe health challenges than those residing in a nursing home; however, their needs may change over time due to age or illness progression.
Nursing homes are staffed with qualified nurses and caregivers providing the same service as residential care homes, e.g., providing meals and personal assistance with daily living activities like bathing and dressing. In addition, having trained nurses on hand means that medication can be administered, dressings can be changed, and the residents have 24-hour professional medical supervision.
What are the Benefits of a Nursing Home?
Nursing homes offer the same advantages as residential care homes, with the added benefit of 24-hour supervision by trained nurses who monitor the needs of each resident as well as their safety.
There are different types of nursing homes depending on the level of care required by patients – some offer specialist medical care, which they wouldn't be able to get elsewhere. However, live-in care agencies such as Home Touch also can provide carers who are specialists in such conditions as stroke, spinal injury, Parkinson's, Huntington's, Dementia and others. Live-in carers can offer professional assistance with many illnesses as well as provide companionship and comfort.
What are the Disadvantages of a Nursing Home?
Most of the disadvantages of nursing homes are similar to care homes, loss of independence, lack of flexibility and feeling socially isolated. This is usually even more frustrating and stress-inducing for those suffering from serious health conditions due to physical limitations preventing mobility.
Expensive Option
Nursing homes are typically the most expensive types of care, but they are equipped with live-in nurses and highly trained carers. This means that if your loved one needs specialised care, they will be able to provide it but at a high cost.
Higher Risk of Developing Infections
As we have sadly witnessed with the COVID-19 pandemic, nursing homes are recognised for their high risk of residents developing infections. This is due to the large number of elderly people who live in these facilities, with compromised immune systems, which makes them more susceptible to infection. Unfortunately, though the nursing homes have done everything in their power to mitigate the risk, the pathogen can still easily spread amongst older adults with health issues.
Dual Registered Care Homes
Dual registered care homes in the UK are facilities that provide different levels of residential and nursing care. Typically, they offer a higher level of nursing care than traditional residential care homes. The residents can choose to receive either type of service depending on their needs. Residents typically stay for several years or even permanently, as long as they have adequate resources and assets to cover the cost of their stay. These types of facilities usually specialise in providing end-of-life care for people with dementia, Alzheimer's disease, Parkinson's disease, and other conditions that gradually impair memory or mobility skills over time.
The benefit of dual registered care homes is that if a person needs a higher level of medical or nursing at a later date, they won't have to suffer any disruption to their lives. They can carry on living at the same place with increased medical care rather than having to be moved from a residential home to a nursing home.
What is Assisted Living?
Assisted living gives individuals more independence than residential care homes as they get to live in their own self contained flat with its own front door but in a communal setting. There are staff on hand at all times to provide the support needed depending on their needs. Commonly there is a minimum age of 55 to 60 to live within this type of retirement community, and flats can be rented or purchased leasehold.
What are The Benefits of Assisted Living?
The main benefit is that they offer a more flexible schedule than residential care homes and a greater level of independence. They also have the privacy of their own private residence that they can decorate how they want.
Senior citizens who live in these communities tend to have a higher quality of life than those who don't because they are socially connected with others at the same age. They can also choose to engage in what activities they want to do rather than what someone else might want for them.
Community
As with a residential care home, communal areas are provided for taking meals, socialising and getting involved in other activities within the community. Activities may include bingo, book club meetings, and fitness classes. Still, if a person prefers some peace and quiet, they can easily find it behind their own front door. Unlike care homes, assisted living communities aren't so strictly regimented with a greater degree of freedom to choose what you want to do throughout the day.
An assisted living retirement community is an excellent option for those looking to enjoy their golden years in an environment that offers assistance with daily activities but also the freedom and independence of having their own space.
What are The Disadvantages of Assisted Living?
Assisted living retirement communities are a popular option for many seniors, as they offer the best of both worlds. You get to live in your own home but with some help from other staff members. This is great because you don't have to worry about cooking or cleaning up after yourself and you can still be independent.
However, there are disadvantages as well that come along with this type of lifestyle. One downside is that it's expensive, and if you're on a tight budget, then it might not be the right choice for you.
Another issue is that sometimes people who live in these homes feel lonely because they lack contact with others outside their community. There's also less privacy which might cause the person to feel uncomfortable at times, too, since other residents live in such close proximity.
Lacking in Diversity
There can be a sense of belonging when you join this type of community because everyone has something in common, namely being elderly. But, for those who enjoy mixing with younger people, this isn't always such a great thing.
Fewer Options to Choose From
Assisted living communities are not as widespread as care homes, and it might be challenging to find one close to family or friends. If the retirement home is in an upmarket area and has many luxury amenities, it also might not be cost-prohibitive for many.
Some Communities Don't Allow Pets
If pets are involved, it might narrow down options even more as some communities have restrictions against residents having pets. This is something you'll need to check if the elderly individual is a pet lover before making any decisions.
What is Domiciliary Care?
Domiciliary Care is an umbrella term for care that people receive in their homes. This could entail paying for a carer to come to the person's home a set number of hours a week to help them with everyday tasks such as cooking, cleaning and laundry. It also could be family members or friends helping out for free, or more often than not, a combination of family care and paid help. Home care can be more affordable than live-in care, but it does not offer round the clock support. Live-in caregivers typically cost more than home caregivers, but they tend to be on call 24 hours per day, seven days per week.
Caregivers typically charge hourly rates and will require some notice before they can start work. Working with an agency will provide peace of mind that the person you hire will be qualified and trustworthy.
Benefits of Domiciliary Care
The benefits to having this type of service are many, including lower cost, convenience and increased socialisation with family members.
Affordable
Domiciliary care can be an excellent alternative to a care home, especially if you don't have the financial means to cover the costs. With domiciliary care, the individual can stay in their home and still receive help with things like cooking, cleaning, bathing, dressing and taking medication in addition to companionship. Many families find this cost much more manageable than other types of care.
Respite for Family Carers
Looking after an elderly family member can be a challenge and can result in burnout and depression in the carer. Hiring a paid professional carer to help out for a few hours a week so that you can take a break from time to time can save you from sacrificing your sanity!
Disadvantages of Domiciliary Care
While domiciliary care is an excellent, affordable way to help ageing loved ones maintain their independence and quality of life, there are disadvantages. These include not having 24-hour supervision, which could result in falls and injuries, especially if there is no caregiver on-site overnight. If the carer only provides a few hours of personal attention, it might not be enough help depending on the individual's needs.
Dementia Care Options
Dementia is a degenerative brain disease characterised by memory loss, language difficulties, changes in personality and impaired reasoning abilities. The type of dementia affects its symptoms as well as how it progresses over time. Dementia affects various parts of the brain, which causes different types of dementia, making each case different. Dementia comes with some emotional and physical challenges, which make caregiving even more difficult than usual. In recent years there has been an increase in awareness about dementia and improved care services for those living with the condition.
To some degree, your choice might depend on what stage of dementia they are at, which could be anywhere from very mild to severe cognitive decline. The first step in providing care for those with dementia is creating an environment that feels safe and comforting.
For many families, the decision to move a loved one into a nursing home is difficult. For those with dementia, this decision can be even more challenging as they may not understand what has happened and why they are no longer at home. 24-hour at-home dementia care from a trained specialist can provide a viable alternative solution that can help keep your family together and maintain your loved one's dignity.
In Summary
The care industry is one of the fastest-growing industries in the world, and it's also one of the most challenging. The main reason for this is that there are so many types of care available, which means that there are many options to choose from and a lot to compare. What works for someone else might not work as well for you or your loved ones. That's why it's essential to know about all your choices before making any decisions.
Elderly people are more likely than anyone else to have a deep connection to their home, memories and community. Although as they age, the family may not be nearby, many seniors find comfort in staying close to where they raised their children and grandchildren. The most emotional argument against moving the elderly from their own homes is that it takes away this attachment to place. We believe the best thing to do is provide them with assistance while they're still at home, with the help of a professional and compassionate live-in carer. In this way, a level of independence can be maintained, and they can live their final years in comfort, with dignity and within the communities they love.