How To Care For An Elderly Parent With Cancer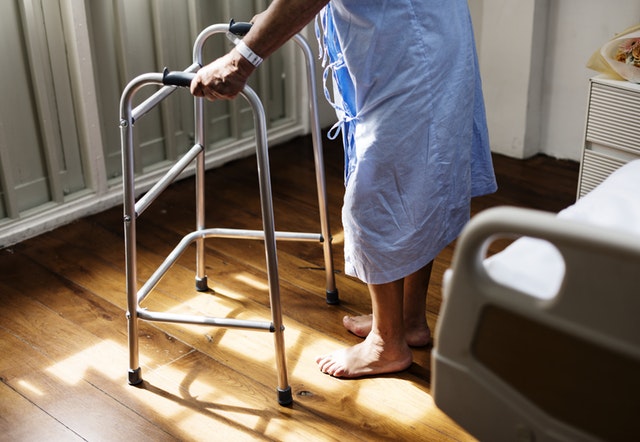 ---
Knowing how to care for an elderly parent with cancer does not come naturally. The key things are the simple things: communication, a healthy diet, physical support, and spending time together. Find out more…
---
Caring for an elderly parent with cancer
One in two people will develop some form of cancer during their lifetime. Even the thought of 'the big C' can be terrifying but the good news is that many malignancies can be cured or treated successfully. It can be difficult to cope with your own sense of loss and fear, while caring for your parent's physical and emotional needs, but there's lots that you can do to maintain their comfort and quality of life, so that you can help them recover or make the most of the time you have left.
It's natural to want to offer practical, emotional or physical support. But it's always important to ask your loved one about the sort of help they need, and involve family and friends so that the burden of care is shared.
Understand that others will also appreciate being able to support and spend time with your parent. However, if you have friends and relatives visiting regularly from near and far, it's also important that you don't feel the pressure to play 'host'. If they're visiting, ask them to bring something with them to contribute to a meal. It's one thing to help your elderly parent enjoy company, it's another to feed the 5000.
Caring is stressful and you will need respite so that you can rest, recharge your batteries and remain fit to care. More so, the special live in care for disabled could be a better alternative care. THis form of care specialize in elders with one or more ailments or challenges.
Changing relationships
When you are caring for a parent, your role will very much depend on their health and level of function.
Dealing with a serious illness is stressful and can alter relationships. You may both find it tricky to adjust to the changing parent/child dynamic; helping your loved one get dressed or go to the loo can be uncomfortable for both individuals. It can help to be open and matter-of-fact about the situation and always try be respectful and maintain their dignity. If some aspects of personal care are proving particularly awkward, consider arranging carers to offer professional support.
Keep on communicating
Many people are afraid to talk about cancer. They're worried about putting their foot in it, saying the wrong thing or scaring someone they love. It is easy to fall into the trap of avoiding the subject totally, talking about someone else's cancer experience or being relentlessly optimistic.
Instead of overwhelming your parent with positive stories and new therapies, it can help to just listen. Ask open ended questions so that they can express their anxieties and fears. It's normal to worry and to have bad days, and it can be healthy and cathartic to discuss these feelings.
---
Macmillan have put together an excellent list of things to avoid saying if you feel like you're treading on eggshells.
---
Physical support
You may need to work with the healthcare team to manage your parent's symptoms, keep a note of any appointments and arrange transport.
Cancers and cancer treatments can cause pain, sickness, constipation, diarrhoea, continence issues, insomnia and problems feeding. But you are not alone. There are experts and live in care for disabled available to suggest medications and treatments to ease your loved one's symptoms. If they are in hospital, then speak to the nursing staff, at home the GP should be the first port of call. Don't worry about being a bother, if a therapy isn't helping, ask again.
Time for joy
The demands of hospital visits, appointments and household chores can mean that there is very little time for togetherness. Try and find space in the day for moments of joy: chatting over cake and a cup of tea, pottering in the garden or looking through family albums can all boost your parent's wellbeing, and make you feel better too. If they're isolated on a ward due to the risk of infection, think about finding favourite films, box sets or audio books that can help while away the time when you're unable to be there.
If the demands of care are overwhelming, consider requesting a care assessment. You could employ carers to come into the home and help with anything from chores to personal care, allowing you the space to enjoy your time together.
Nurturing nutrition
The great thinker Hippocrates said 'let food be thy medicine.' And he was right. Our diets can't replace modern medical treatment, but eating well can improve wellbeing, fight inflammation and even decrease pain.
Many people with cancer lose weight and unappetising hospital meals don't help! Tempt them with their favourite food (preferably with lots of fresh fruit and veggies). Soups, smoothies and stews can be particularly soothing and easy to swallow. Red meat and leafy green vegetables can help fight anaemia, and it doesn't have to be a solid lump of meat that's hard to cut and chew. Try sourcing lasagna, bolognese, cottage or shepherd's pie with beef and lamb mince. A diet rich in wholegrains and fluids will beat constipation.
---
If they're struggling to cook, think about a delivery service or stock the freezer with microwavable treats.
---
Planning for end of life care
Sadly, sometimes cancers cannot be cured. It can be a good idea to support your parent in dealing with important issues like arranging Power of Attorney, writing wills and planning how they would like to be supported at the end of their life. These are not easy subjects to raise at a vulnerable time but many people facing a terminal illness appreciate having time and help to arrange their affairs.
Caring for someone with cancer is demanding physically, mentally and emotionally. Live in care for disabled could be a viable alternative. However, it can also be a time that enriches your relationship and brings you closer together. You can find out more and get support from:
Hometouch is an introductory agency that brings pre-approved and experienced self-employed carers together with those who have a care need. We give you control by allowing you to choose your carer and negotiate their rate directly with them. And we provide support by providing you with a shortlist of live in care for disabled we think would be an excellent fit, by taking care of payments and by organising holiday and sick cover.
---
Our care experts were once carers themselves, and understand the level of trust required. You can speak to them now by calling us on 0207 148 6746.
Find out more: