How to Avoid Live-In Carer Burnout and Stress
Being a caregiver is a very responsible and demanding job that only a handful of people can do. Caregiving responsibilities include cleaning, cooking, and running other household chores. Additionally, they care for a loved one or a patient by bathing the person, feeding, or carrying out other necessary medical tasks.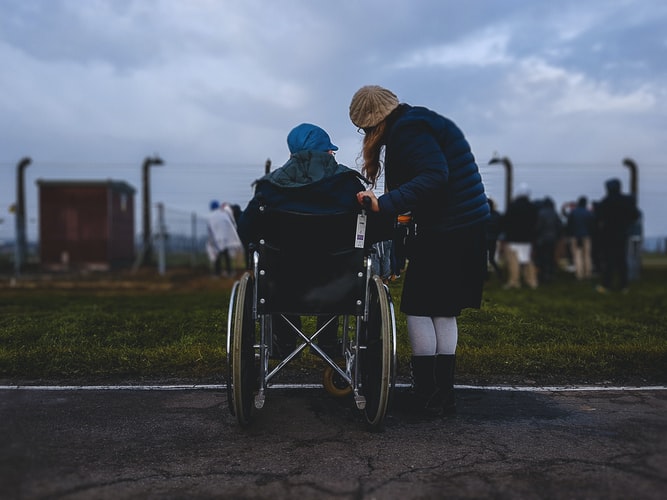 Whether you provide live-in care for your loved one or someone else, it can be challenging, especially in the beginning, when you do not have profound experience. Caring for a loved one or a patient can drain lots of your energy, leaving you exhausted and fatigued.
Speak to one of our knowledgeable care advisers about Hometouch's high quality live-in care service
A live-in caregiver spends plenty of time with another person who needs medical assistance and support with other personal needs. It can be tiring and stressful, but it definitely is rewarding to be able to help someone.
A caregiver can feel frustrated and weak, lacking energy, and even suffering from depression. Caring for others, they can often neglect their own health and well-being. In this article, you learn about the exhaustion that caregivers experience and ways to handle it.
What Is Caregiver Burnout?
Caregiver burnout is often associated with exhaustion and feeling overwhelmed; it is when you lose interest in activities and start avoiding contact with friends and family. Stress is a big factor that influences the well-being of a caregiver.
Caregiver burnout is particularly dangerous when it is not being paid enough attention. Being in a state of depression, anxiety, and stress can drastically decrease the quality of care. And while being unattentive, tiredness can lead to grave mistakes.
Caregiver burnout can be avoided if you spot the warning signs in time and start caring about your wants in order to provide quality care to the people in need.
What Are the Warning Signs of Caregivers Burnout?
Caregivers dedicate most of their energy to caring for patients, and it may cause various burnout signs that in the future might lead to total exhaustion. Here are a number of warning symptoms that you may notice:
Depression
Fatigue
Stress
Physical exhaustion
Neglecting physical and emotional needs
Getting not enough or too much sleep
Weight change
Being emotionally vulnerable (e.g., being easily irritated or angry)
Health deterioration
When you are constantly working under pressure, it reflects how you feel during the day. It can also affect your personal relationship and your professionalism.
The symptoms of caregiver burnout can go unnoticed at first. However, the person you're caring for or your friends and family can point out your changes in mood.
If you remain in burnout condition for too long, your health gets worse, your concentration decreases, and your anxiety increases. It can even make your immune system vulnerable to infections.
Why Is Being a Carer Stressful?
A carer burnout is caused by feeling overwhelmed when providing care for a loved one or a patient. It is a great responsibility and demands a lot of energy. However, caregiver burnout is not necessarily caused by long working hours; there are other factors:
Being isolated socially
Financial worries
Depression
Anxiety
Trying to achieve more than you can
Lack of support from others
Some caregivers can feel unappreciated, having no support from others, and feeling lonely. When giving all the recourses to the person you're caring for, you often feel trapped and neglected. Most caregivers may feel like they have no control of their life, especially when the health of your patient or a loved one is getting worse. Other caregivers may feel guilty because all of their resources are spent on a patient instead of on children, friends, or work. The feeling of guilt and stress may also arise when a caregiver thinks the quality of care is not good enough or sees a patient as a 'burden' in life.
Ways to Avoid Caregiver Burnout
It is not easy to prevent burnout because you need to monitor your physical and mental condition, and you should work on improving yourself throughout the whole time and not only when it is too late. Once you start feeling burnout symptoms, you should reflect on what you have been doing and what you can change in your lifestyle. The changes in the environment will help both you and your loved one or a patient.
Being aware of your burnout symptoms can help you realise when it is high time to implement changes not to harm your health; that is why you should always be honest with yourself about what you can handle.
Providing care can be less stressful if you follow the following tips:
Join a Support Group
A support group will help you with a piece of advice, encouragement and give you an emotional and physical boost. The support group member can notice burnout signs sooner than you, and they can help you return to a healthy lifestyle.
Stay Connected With Friends and Family
Your family can listen to your problems and help with a piece of good advice that in turn can relieve stress. Your friend will support you and reassure you if you feel frustrated or lost. You can also seek connection with the community that provides care to patients with the same health problems.
Set Realistic Goals
You always try to do your best when caring for a loved one or a patient. However, you are at risk of burnout if you run out of energy. If you skip getting good quality sleep, you will feel fatigued and tired. Instead, you should make a list of realistic goals that are achievable and beneficial for your physical and mental health. For example, you should set it as a goal to sleep enough, eat a healthy diet, and be physically active. Those examples may seem too simple but are very useful.
Prioritise Your Needs
Caregivers tend to invest all their time and effort into caring for a loved one when, in reality, they can be so committed to it only for a short period of time. If you want to provide care for your loved ones, you need to be full of power first. You should dedicate time to your career and hobbies; this way, you will not lose meaning in life.
Understand the Disease
Caring for a person does not always mean a caregiver will improve their health condition by helping with basic needs and giving medication. There are progressive diseases like Alzheimer's or dementia, and a caregiver needs to accept that changes in health are imminent.
If you are taking care of your loved one, you should be realistic about what can be done to slow down the process; however, you should also be prepared for any outcome.
Take Breaks
You shouldn't feel guilty if you feel tired and need some breaks throughout the day. In contrast, it is vital to give yourself some time to rest and recharge your energy. It is advised to take regular breaks, even for a short period of time. You could use your breaks efficiently by having some exercises, reading a book, or simply listening to calm music.
Ask For Help
Caregivers have lots of responsibilities, but it doesn't mean you have to accept all of them. Some things can make you feel under too much pressure, or you might not have any energy left for it. You should ask your family members to help you out or provide resources that can be used to relieve you from anxiety and to provide professional help for your loved one. Hometouch offers the most reliable and passionate live-in caregivers all over the UK that immensely help you regain a quality life again. And if you still want to stay with your loved ones, you can hire a caregiver to help you out a couple of times a week.
Having a live-in caregiver will keep your loved one in a secure and familiar home environment without causing extra stress in relocating to nursing homes.
Conclusion
It is not uncommon for caregivers to experience burnout after some time of providing care for someone. To avoid it or recover from it, you should realise that you cannot do everything and you have your private life, too. It is necessary to set limitations in order to have a healthy mental condition. And it is no less important to tend to your needs first if you want to care for someone.
The pieces of advice that are listed in the article will help you stay healthy and positive. Remember to seek help, delegate responsibilities to family members or other carers, and never neglect your needs.