How do pets help the elderly?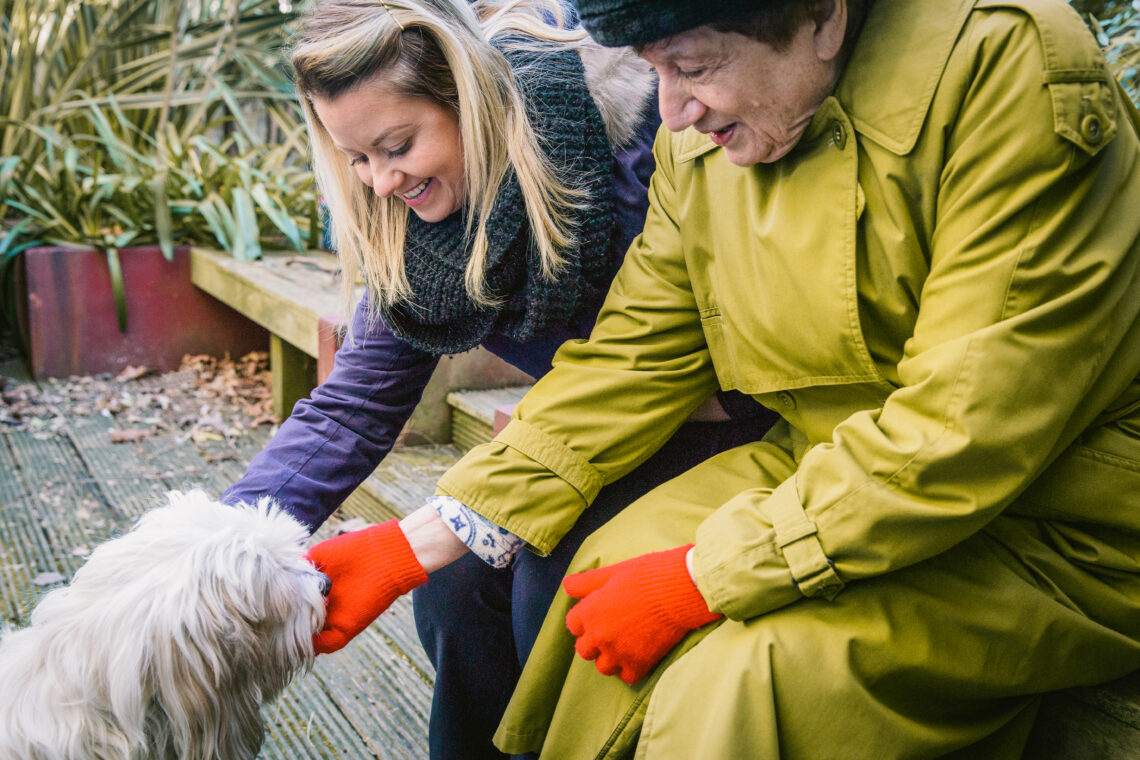 ---
Pets help the elderly by improving their mood, encouraging exercise, giving them something to focus on, and providing constant companionship. By receiving care at home, your loved one can keep their pet by their side.
---
Do pets help the elderly?
Pets can be cute, cuddly companions, but they have much more to offer than a waggy tail or a playful purr. Caring for a pet can boost your physical, mental and emotional health.
Humans and animals can have an extraordinary bond. Pets offer much more than companionship. People with pets tend to have healthier hearts, are sick less often, exercise more and experience less depression and anxiety. It's a fact. Research shows that having a pet could be good for your health.
Mood matters
People have understood the power of pets for centuries. Florence Nightingale noticed that allowing small pets onto the wards helped to reduce symptoms of anxiety in her patients and aided their recovery.
It makes sense, pets have an extraordinary ability to brighten the spirits of people of all ages. It's difficult to feel down when faced with some loving eyes, a wagging tail, or a cat curling up in your lap.
Four-legged friends
Many elderly people suffer social isolation because of disease, disability or bereavement. A pet can ease the loneliness, offering love, affection and company 24 hours a day.
Fun, focus and friendship
As well as being a source of companionship and love, a pet can offer a sense of purpose. Having a pet is a responsibility. Pet owners know they need to feed, walk, and care for them. This daily focus can help people of all ages maintain regular routines, get out in the fresh air, exercise, and meet other people. On a grey winter day, when you're feeling tired and lacking in motivation, a pet can be a reason to get out and about.
The best medicine
Pets can help your heart both physically and emotionally. Stroking an animal can soothe tension and decrease stress. It feels good and it also does you good. Studies show that petting can drop blood pressure and that having a dog is associated with decreased blood cholesterol levels and better cardiovascular health.
Our bodies react well to being emotionally connected to another living thing, whether it's a friend, a child, a partner or a pet. The brain responds to the attachment by decreasing the release of the stress hormone cortisol. There has also been a study in the journal Science showing that the body releases the 'feel good' hormone oxytocin when a pet owner looks into the eyes of their dog. Oxytocin creates feelings of calmness, closeness and togetherness, it's a little like falling in love.
Pet problems
Although pets can be wonderful, they can also be challenging. Walking them, caring for them and feeding them can be hard work. Many elderly people can become too ill or immobile to cope with the daily demands of pet ownership, even if the benefit of having them around is still significant. If your elderly loved one is beginning to struggle on their own, home care can provide the support they need to maintain their independence and lifestyle.
hometouch carers can care for your loved one, by managing their daily needs and making sure they get the best out of life. They can also take the dog out for a walk and/or feed the cat. The benefit of home care is that your loved one can stay with their beloved pet. This is not true for the majority of care homes, which often don't allow animals. A home carer will help your loved one to maintain the friendships that they love, promoting heart health and avoiding heartbreak.
hometouch is an introductory agency that brings pre-approved and experienced self-employed carers together with those who have a care need. We give you control by allowing you to choose your carer and negotiate their rate directly with them. And we provide support by providing you with a shortlist of carers we think would be an excellent fit, by taking care of payments and by organising holiday and sick cover.
---
Our care experts were once carers themselves, and understand the level of trust required. You can speak to them now by calling us on 0207 148 6746.
---
---
Find out more: