Grief on Father's Day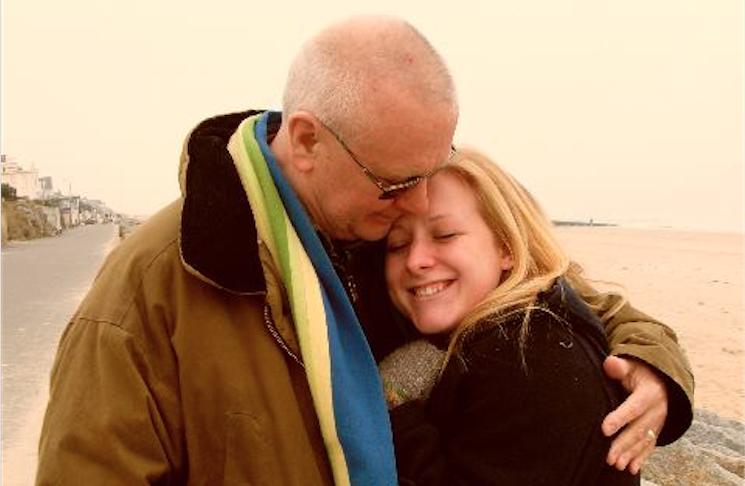 My sister with our dad
Five years ago I lost my father to leukaemia. It affects me still in more ways than I ever could have predicted, and the loss becomes more apparent every year on the approach to Father's Day. Grief on Father's Day is tough, every shop window advertises cards and presents and deals designed to entice people with live and kicking dads through their doors. Every year I avert my eyes and walk past, trying not to see it. Every year I feel pangs of sadness and regret tinged with jealousy for those for whom this day is still relevant.
---
But this year I'm going to try something different
---
I loved my father, and I love him still. I miss him dreadfully, and I'm not ashamed when my emotions surface. He was fundamental to me and now he's gone, which is cause enough for the occasional cry. But this year I'm going to try to see this as a day for positive remembrance, and if you're like me in finding this day a struggle, I invite you to join in.
Garden therapy
My dad loved a specific type of rose called a Sympathy Rose. It's a fragrant, wine red, climbing rose, and every year he'd cut one of the stems to lay on my grandmother's grave. It's actually very rare and difficult to find (I can't find it anywhere online) but i'm determined to track one down.
Growing things is known to help keep memories alive. Senses are powerful and they trigger recollections. Whether it's a certain colour or scent, it can help to have a living reminder of the person you've lost.
If your dad wasn't much of a plant lover, perhaps he liked flavour. If he loved mustard with his steak, get a pot and plant some mustard seeds. If he liked mint with his lamb… well you can see where this is going.
Food for life
My dad loved a barbecue. He wasn't unusual in that, I know, but he really loved the process of cooking on a grill while drinking a cold beer and listening to his favourite music. I have strong memories of him sitting in the garden in his hat, leaning back in his seat and saying "This is the life!"
It was. It was his life, and whatever happened at the end, there were some bits in the middle where he was truly happy. I can't think of a Father's day meal that would honour his memory better.
A memorable activity
Dad loved to throw a frisbee around in the park. It was his thing. He also used to criticise me when I mis-threw, sending it half a mile in the wrong direction, but laughed when I had to sprint off because "the wind had caught it". But as they say, time heals all wounds! This year, weather permitting, I'm going to the park for a game of frisbee.
Perhaps your dad liked to walk in a beautiful location, perhaps he liked to sit on the beach, perhaps he liked the view from a particular hill, whatever he liked most, try to reconnect with it. Places hold memories, and as long as the memories are happy, it can be therapeutic to relive the good times.
It's important to remember that you're not alone. Family and friends can offer support during these times, and it's likely they'll sympathise or be experiencing the same difficulties. If possible, get together to share the day. Even if your friends didn't know your dad, they might be happy to hear stories about your childhood and the man you knew. Whatever you do this Father's day, don't put yourself under too much pressure. Grief needs to be felt and processed, and however you choose to face the day, know that you're doing it in the way that's right for you.
If you've lost your dad it might be that you have a remaining parent who is feeling their absence. If this is the case you can read this blog about how to help a parent who's grieving.