Dementia cafes and their benefits
Support, understanding, and social interaction are things we can all benefit from. Dementia cafes seek to provide exactly that for people whose lives are affected by the condition.
Up and down the country dementia cafes and memory groups are providing an invaluable service to local communities. At Hometouch, we know how tough a dementia diagnosis can be, both for the person living with the condition and their families. So, with dementia cafes playing such a vital role for so many people, we shine a light on the support they provide and explain why they are so beneficial.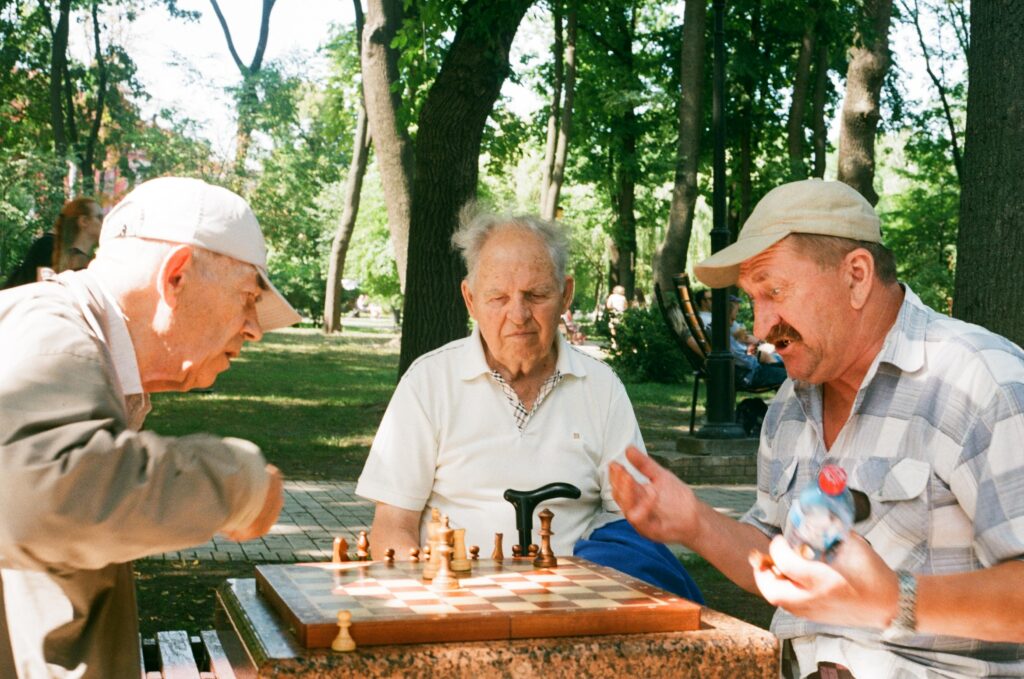 What are dementia cafes?
Dementia cafes provide a safe, welcoming space for those whose lives are affected by dementia. They give people living with dementia and their families a chance to meet others in a similar situation as well as getting access to expert advice.
Often ran by charities, community groups, or volunteers, dementia cafes offer a range of empathetic support. For those with a recent diagnosis, it's natural that there are feelings of anxiety and worry but the opportunity to speak to others in a similar situation can provide some reassurance. As can the understanding and advice provided by dementia experts at the cafes.
For family members, access to advice from professionals in an informal setting is appreciated. The information available can help them support their loved one and provide the best possible quality of life. As caring for a loved one can be challenging, the ability to create bonds and build a support network of others doing the same thing offers comfort and reassurance.
As well as volunteers serving tea and coffee (and maybe even a sweet treat!), the opportunity for conversation is often matched with gentle activities for dementia patients. Typically these are aimed at providing physical and mental stimulation as well as promoting interactivity between those in attendance.
A good example of this in action are the dementia cafes ran by Worcester Warriors Rugby Club in both Worcester and Kidderminster. Here the opportunity to get together and enjoy some light refreshments is supplemented by encouragement to take part in some gentle sporting activities.
In Berkshire you can find activities that are more musical; Age UK runs the Memory Lane Singing Cafe where attendees are encouraged to sing along to well known songs performed by one of the Berkshire Maestros. While activities at dementia cafes in Kent have included beauty students at the Oasis Academy in Sheppey giving pampering sessions while other cafes have provided gardening activities.
Benefits of dementia cafes
There are numerous benefits of dementia cafes, both to the person that has been diagnosed with the condition, their family members, and those that volunteer at the cafes.
Socialising
Research has confirmed that conversation is beneficial for brain health. The triggering of mental stimulation is particularly useful for those with dementia.
There are recognised tips for talking to people with dementia, so having experts in the room that will understand the need to speak slowly and use non verbal clues can ensure that conversations are handled effectively.
Additionally, socialising can help combat depression and loneliness, which can be felt by people with dementia, as well as those that help look after them.
Routine
For those with Alzheimer's, routine and familiarity can help decrease some of the challenging behaviours associated with the condition (agitation, restlessness, etc.).
The Alzheimer's Project advises that familiarity is important as it can allow people to perform activities which in turn helps them feel calmer, more comfortable, and independent. With dementia cafes running at the same time every week, they can bring an added element of routine to people's lives.
Support and information
As there are often experts in attendance at many dementia cafes, the support and information they can provide is invaluable to those affected by the condition.
This can range from advice to those that have had a recent diagnosis, which can help alleviate anxiety. Equally, their experience can help people feel comfortable in what may, at first, be an unfamiliar setting.
This support can extend to those providing care, whether that is expert advice or offering a sense of respite as they feel that others are there to help them provide care when at the cafe.
For volunteers
Volunteering is renowned for having a positive impact on the lives of those generous people that are willing to spend their time helping others. Dementia Adventure list numerous benefits of providing volunteer help to people with dementia, including;
Improving skills and knowledge
Meeting new people
Taking satisfaction from providing a valuable service to people that need it.
Memory groups and activity groups
Like dementia cafes, memory groups offer the opportunity for elderly people to meet on a regular basis and socialise with others. It can be common for memory groups to be organised around certain themes, like an interest in sports, for example.
The Sporting Memories Foundation runs 130 free weekly clubs across the UK. With almost 60,000 people having attended a club since 2019, it's clear that they are succeeding in their mission to use sporting memories to support people with dementia and tackle depression and loneliness.
At Sporting Memories Foundation clubs people aged over 50 come together to talk about and remember various sporting events. Online meetings are available for those that cannot attend in person and provide a weekly newsletter, the Sporting Pink, with vintage articles and quizzes to stimulate memories.
It's not just sports, either. Arts 4 Dementia is a UK charity aiming to empower and inspire people with early-stage dementia and carers through artistic stimulation. On their website, you can find a whole range of different events that are taking place up and down the country. These can include screenings of classic films, groups that come together to reminisce as well as specially curated concerts. They also run a weekly online art club, so wherever you are based there's a chance to get involved.
Finding a dementia cafe near you
As we've discussed there are dementia cafes, activity clubs and memory groups throughout the UK. As well as clicking on some of the links in this article, you can find dementia cafes near you on the Alzheimer's Society website (scroll to the bottom of the page and enter your postcode) and also the Memory Cafe Directory.
About Hometouch
Hometouch specialise in providing live-in dementia care. Trusted by over 1,000 families in the UK, we provide care all across the country. You can learn more about the types of care available here.
If you're a live-in carer, why not check out our live-in care jobs?