Choosing A Full Time Live-in Carer?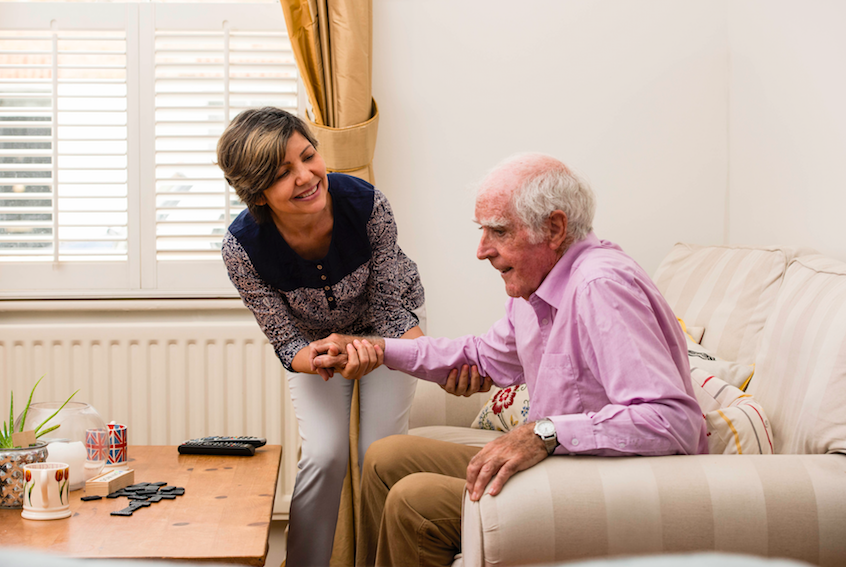 ---
Choosing a full time live-in carer can be very stressful, especially if your love one has special requirements. HomeTouch can help you to make the right choice.
---
Why Choose live-in care?
If your loved one is struggling to manage on their own, live-in care can help them to continue living safely in their own home. It is an increasingly popular alternative to a nursing home, but when you are entrusting the wellbeing of someone you love to another person, a full time live in carer, there are lots of factors to consider.
Here's what to look for, so that you can find your perfect care match.
Think it through
---
Before you hire a full time live in carer, it's a good idea to discuss exactly the sort of help your loved one needs. You will also need to consider a private space in the house, where the carer can live, and sleep. Calculate how much the family can afford and look into any financial support that may be available.
---
Armed with this information it's easier to find the person with the right combination of skills and experience to help your loved one live-in comfort and dignity.
What should I look for?
Be completely honest and clear about the level of care your loved one requires.
By being totally straight about the role requirements, as well as any particular challenges, you will find it easier to identify the best live in care and person who best meets your needs.
When you are deciding on the right person, facts and figures can compete with personal feelings. It really is all about balancing the facts and figures with your own gut instinct. To make this easier, think about the facts and figures first:
Experience: do they have the background that gives you confidence that they'll be able to cope calmly and efficiently with any problems or pitfalls?
Training and qualifications: if your loved one has complex or specific needs, such as degenerative disease, dementia or incontinence it will be helpful if they have a nursing background or have cared for people with similar issues before.
References: written references should be checked and followed up by a personal phone call.
DBS record check: don't let someone over your doorstep unless you're sure that their criminal record check is clear.
Once these checks are out of the way you can concentrate on the single most important thing to consider, which is the way in which they interact with your loved one.
Think about running a trial session. You'll have the chance to watch how they react and respond to their needs and ensure your loved one is comfortable and content.
How to find the right person
There are a number of ways of finding and employing caregivers.  You can search for a private carer, full time live in carer, utilise a care agency, or use an introductory agency like Hometouch.
The right way for you as a family will depend on your budget and the level of control and responsibility you want. There are pros and cons to each method, by assessing these you can decide on the right method for you to find the best live in care and help you need.
Private care
You can use personal recommendations, advertise privately or check out the small ads. This can be a very inexpensive and flexible approach. You will have control over the carer you choose and the role that you expect from them.
However, it is vital to understand that this makes you an employer, which carries lots of legal and financial responsibilities.
You will need to supply a contract and pay National Insurance and liability insurance. You may also need to pay for sickness and pension provision. You will have to ensure that their hours are reasonable, with allow for sufficient rest time.
You'll also need to organise cover during their time off, and if the private carer is sick, finding backup support will be down to you.
Home care agency
A home care agency can involve much less stress and hassle. They should provide police searches and reference checks. They'll also monitor the quality of care throughout and manage holiday and sickness cover, payments, tax and insurance.
However, this comes at a price and often they take a large commission, meaning the live-in carer is left with a relatively low wage compared to the amount you're paying. This leads to a high turnover of carers, which can mean that your carer will change more regularly and you won't always get to decide which carer you get.
Introductory agencies
Think of introductory agencies as a sort of middle way. They fall in between private care and an agency. They offer an easy way of searching for self-employed caregivers that have been carefully screened and take a much lower commission. Also, they ensure you get the best live in care service you desire. This means that it's cheaper for you, and the carer gets a better wage for their work.
As the introductory agency carries out police and safety checks and arranges contracts and insurance, this route can ease the administrative burden and remove a lot of the stress.
As carers are individual freelancers, there is no need to pay National Insurance, and many introductory agencies will offer backup cover in case of illness and holiday.
Hometouch carefully selects the best live-in carers and allows you to choose your live-in carer by reviewing profiles and reading customer reviews.
---
The right person will be able to provide care, compassion and companionship so that your loved one can spend their twilight years in the comforting and familiar surroundings of their own home.
---
Find out more about live-in care: